Prints and Drawings of the Nabis
07 Feb - 31 May 2015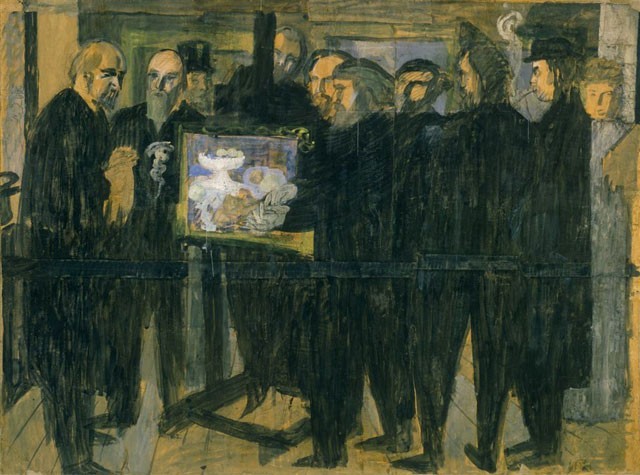 Maurice Denis
Hommage à Cézanne, around 1899/1900
gouache on canvas
178 x 240 cm
Kunsthalle Bremen – Der Kunstverein in Bremen / Photo: Lars Lohrisch
PARISIAN PROPHETS OF MODERNITY: PRINTS AND DRAWINGS OF THE NABIS
7 February - 31 May 2015

Taken from Hebrew and meaning "prophets", the name the 'Nabis' said it all. These rebellious young art students saw themselves as "prophets of modern art" when they banded together at the Académie Julian in Paris in 1888/89 to create art in the footsteps of Paul Gauguin and Emile Bernard that consciously flouted the laws of nature.

Instead, members of the Nabis, which included Paul Sérusier, Maurice Denis, Pierre Bonnard and Félix Vallotton, focused on radical, subjective means to capture the memory of their experiences through the use of colour and form, although the group never formed its own distinctive style. Maurice Denis, the theorist of the group, expressed the maxim which made the Nabis one of the co-founders of modern art: "Remember that a picture, before being a battle horse, a nude, an anecdote or whatnot, is essentially a flat surface covered with colours in a certain order."

With more than 250 prints, the Kunsthalle Bremen holds the most extensive collection of graphic works by the Nabis outside of France. A selection of 60 of these master prints will be presented around Maurice Denis' large gouache of his famous programmatic image Hommage à Cézanne.