Michael Sailstorfer
01 Oct - 20 Nov 2011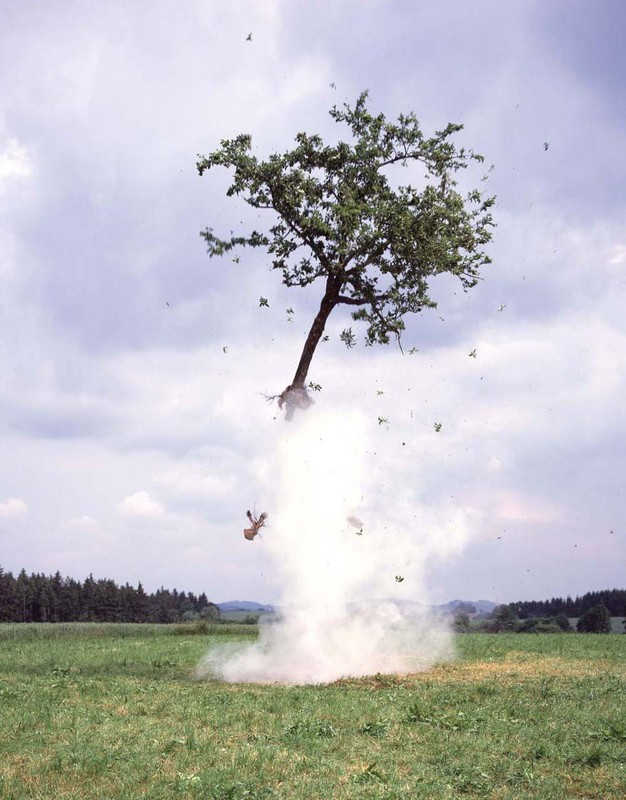 © Michael Sailstorfer
Raketenbaum, 2008
Cibachrome framed on alu dibond, diptych
Photo: Achim Kukulies
MICHAEL SAILSTORFER
Für immer Strom
1 October - 20 November, 2011

Michael Sailstorfer (born in Velden/Vils in 1979, lives in Berlin) studied at the Academy of Fine Arts in Munich and Goldsmith College in London and is one of the most exciting protagonists of young art in Germany.
He often starts out with everyday objects such as car tyres, trees, light-bulbs, microphones and amplifiers, or gambling machines in his objects, installations and experimental set-ups; these are removed from their context, given a new function and later presented in a new context. Sailstorfer's concept of sculpture
is a wide one, also encompassing smells, sounds and movements. The rubbery odour of a spinning car tyre as it rotates and chafes against the wall (from the work group Time is No Motorway) fills the space in an almost plastic way, like the ringing sound of the black-painted gambling machine (Rien ne va plus) or the buzzing of a hair-dryer amplified into a veritable storm using a microphone and loudspeakers (Anna). The popcorn machine (1:43-47) that spits out a portion of sickly-smelling sweet corn with a crunching, crackling sound at short intervals will even fill the exhibition space in a material way over the course of time – like the sweet porridge in the fairy-tale. In a new frame of reference, such sculptures often appear as paradoxical moments of exaggeration or futility, lending animation to the soulless objects and stimulating the viewer's imagination.
Space and time are constant elements in Michael Sailstorfer's complex sculptural works, which may also evolve in a forest or a field. The video Rocket Tree (2011), which shows the launch of a fruit tree, and the 16mm film Lohma (2008), in which one sees the swell and collapse of a corrugated iron hut before an
explosion, are reminiscent of scientific experimental set-ups. However, extremely complex technical preparation is necessary for an apparently simple idea and its documentation using film or photography, and often the event only lasts for a few seconds. The imbalance between the effort involved and the outcome
may appear absurd, but it gives such projects a melancholy or romantic trait, like the sinking of sculptures in the sea to remain there for all eternity.
Michael Sailstorfer's works are always associated with activity; they essay a poetic and yet grasping view of the world we live in. The image of the diver who searches in the ocean's dark depths for surprising encounters, sunken treasure or strange worlds also seems to be a metaphor illustrating the role of the artist, who collects such experiences – and simultaneously invents them with his enigmatic humour.
The accompanying catalogue provides a first comprehensive view of Michael Sailstorfer's complex œuvre and includes essay contributions by Martin Germann, Kristin Schrader, Ellen Seifermann and Birgit Sonna, as well as a conversation between Thomas Caron and Michael Sailstorfer.
The catalogue is published by Distanz-Verlag, Wuppertal; co-editors are the Kestnergesellschaft Hanover, Kunsthalle Nürnberg and the SMAK Ghent (28 Euro during the exhibition).