For real!
20 Nov 2010 - 23 Jan 2011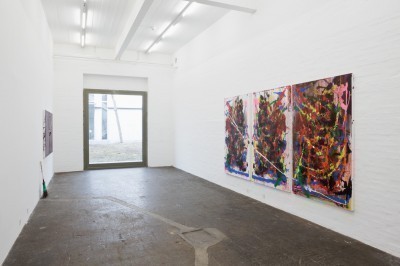 © Raphaël Julliard
Painting, 2010
(Installation view with works by Fouad Bouchoucha and San Keller)
Photo: Kunst Halle Sankt Gallen, Gunnar Meier
FOR REAL!
San Keller, Raphaël Julliard, Norma Jeane, Tim Etchells, Fouad Bouchoucha, Lenka Clayton/Michael Crowe
20 November, 2010 – 23 January, 2011

«For Real!» is looking into the question of the effect of art on the real world and aims to enthuse and involve a wide variety of artists, activists, visionaries, workers and other interested people in cooperation. «For Real!» is an unconventional exhibition because it is not centred on the idea of art as object or manufacture. The project wants to offer real experiences, mix formats (interventions, artworks, rumours) and form a 'community' which is committed to a critical examination of current phenomena and the urban context. At the same time interaction between the actors and audience as well as multimediality and interdisciplinarity should be encouraged. In the process we do not only wish to permit ourselves a view of the complexity of today's world and society but to open up a space for radical experiments.

«For Real!» was initiated by Norma Jeane and Giovanni Carmine (in cooperation with Mai Abu ElDahab) and sees itself as an open source project capable of evolution. It will not only take place in St. Gallen; only the first impulse was generated there (one of the project's next locations is scheduled for Objectif Exhibitions in Antwerp in spring 2011). Already the methodology of the project development was open, for example through a platform for online collaboration where everyone involved could follow the development stages of the project and where lively discussions took place. The community formed during the preparation phase was so strong that it has permitted the realisation of a radical exhibition idea.

As part of «For Real!» various projects and events are taking place in St. Gallen both in exhibition spaces of the Kunst Halle Sankt Gallen as well as in public space.

Overview of dates and locations of the different interventions and events

Biographies of all participating artists

///////////////////////////////////////////////////////////////////////

Norma Jeane starts off with «Der Schlafraum» («The Sleeping Room»): a rescue shelter in the town centre invites passers-by to lie down in public space and share an experience of sleep or repose with other people. The social experiment and the intimate experience show new perspectives of the relationship between a lifestyle based on private property and the general human condition. San Keller is summoning an «Exil-Parlament» («Exile Parliament») in the Kunst Halle made up of 63 artists which, in three sessions, will address the items on the agenda being dealt with simultaneously in the St. Gallen City Parliament. The Exile Parliament is not only open to visitors during its sessions but also as an installation during the Kunst Halle's regular opening times. (Audio recording from the 2nd meeting «Exile Parliament», in German). Raphaël Julliard will deal conceptually with the theme of group formation by initiating an endless series of meetings with a continually growing number of participants in his contribution «Simulation». His second project («Painting») – the other side of the coin – is an action painting workshop for the «For Real!» artists, whose results will be on show at the Kunst Halle. In conclusion the world-famous English theatremaker Tim Etchells invites to an hour of noise in the streets of the city. Fouad Bouchoucha will be turning the spotlight on a subculture and organising a meeting for tuned-up cars.

Kunst Halle Sankt Gallen is pleased to be able to provide its public with 'another kind of art experience' and to define its exhibition space as a venue for open experimentation.

«For Real!» is part of Circular Facts, a collaboration between various institutions supported by the European Union Culture Programm.

«For Real!» is made possible by the friendly support of Securitas AG, St. Gallen; Schweizerisches Rotes Kreuz; Thönig AG Bettenhaus, St. Gallen; Fürstenlandhaus AG, Oberbüren SG, Romuald Brühwiler Baugeschäft, Oberbüren SG; Fleury-Art Künstlerbedarf, Basel; Sign + Shine Beschriftungen, Schaffhausen.