Herbert Hoffmann
27 Jan - 27 Mar 2018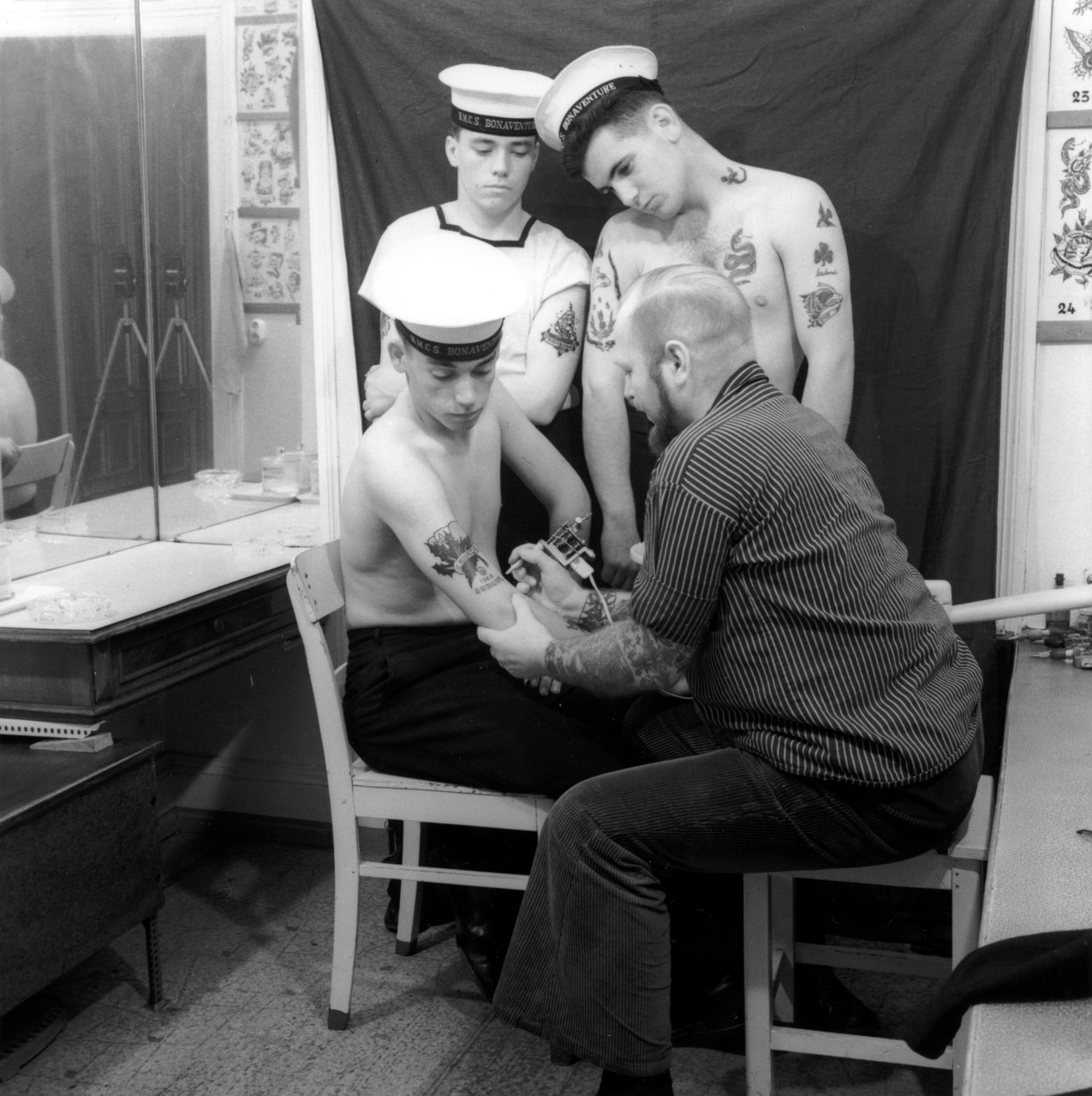 Herbert Hoffmann, Matrosen vom kanadischen Flugzeugträger "BUENA VENTURA" (Flottenbesuch in Hamburg), 1965
Courtesy: Galerie Gebr. Lehmann, Dresden
HERBERT HOFFMANN
Es juckt schon wieder unter dem Fell
27January – 27 March 2018

At the beginning of 2018 Kunst Halle Sankt Gallen is simultaneously showing a monographic photo exhibition of Herbert Hoffmann and a group exhibition of international artists with the title «No Fear of Fainting in a Gym». The common denominator of both projects is the interest of all the participating artists in the human body as source material and projection surface.

The legendary tattooist Herbert Hoffmann (1919-2010) lived for three decades in Heiden/AR (Switzerland), where he also passed away. He did not only leave his mark on Eastern Switzerland but all over the world as a true cult figure in the tattoo scene during his lifetime. It is less well-known that Hoffmann was active as a photographer and left wonderful portraits of people he had tattooed. With more than a hundred works Kunst Halle Sankt Gallen is devoting what is so far the most comprehensive museum exhibition to the artist Herbert Hoffmann. Besides known portraits of his clients and accomplices, for the first time some works and documents are on show which make apparent Hoffmann's precise photographic approach as well as his interest in the stories of those he portrayed, which he also recorded on paper. Hoffmann's work therefore does not only create a highly aestheticised and poetic view of tattooed people but also an impressive picture of a generation.


Herbert Hoffmann (*1919 in Chociwel/PL — formerly Freienwalde/D, †2010 in Heiden/AR, Switzerland) served an apprenticeship as a retail salesman before he was conscripted to the Reich Labour Service. He served in Russia during the war from 1941 to 1945. In 1949 he returned to Germany after internment near Riga/LVA. From 1961 he ran his own tattoo studio near the Hamburg Reeperbahn. In 1980 he retired to Switzerland where he lived until his death with his partner Jakob Anker.