Renato Leotta
29 Sep - 02 Dec 2018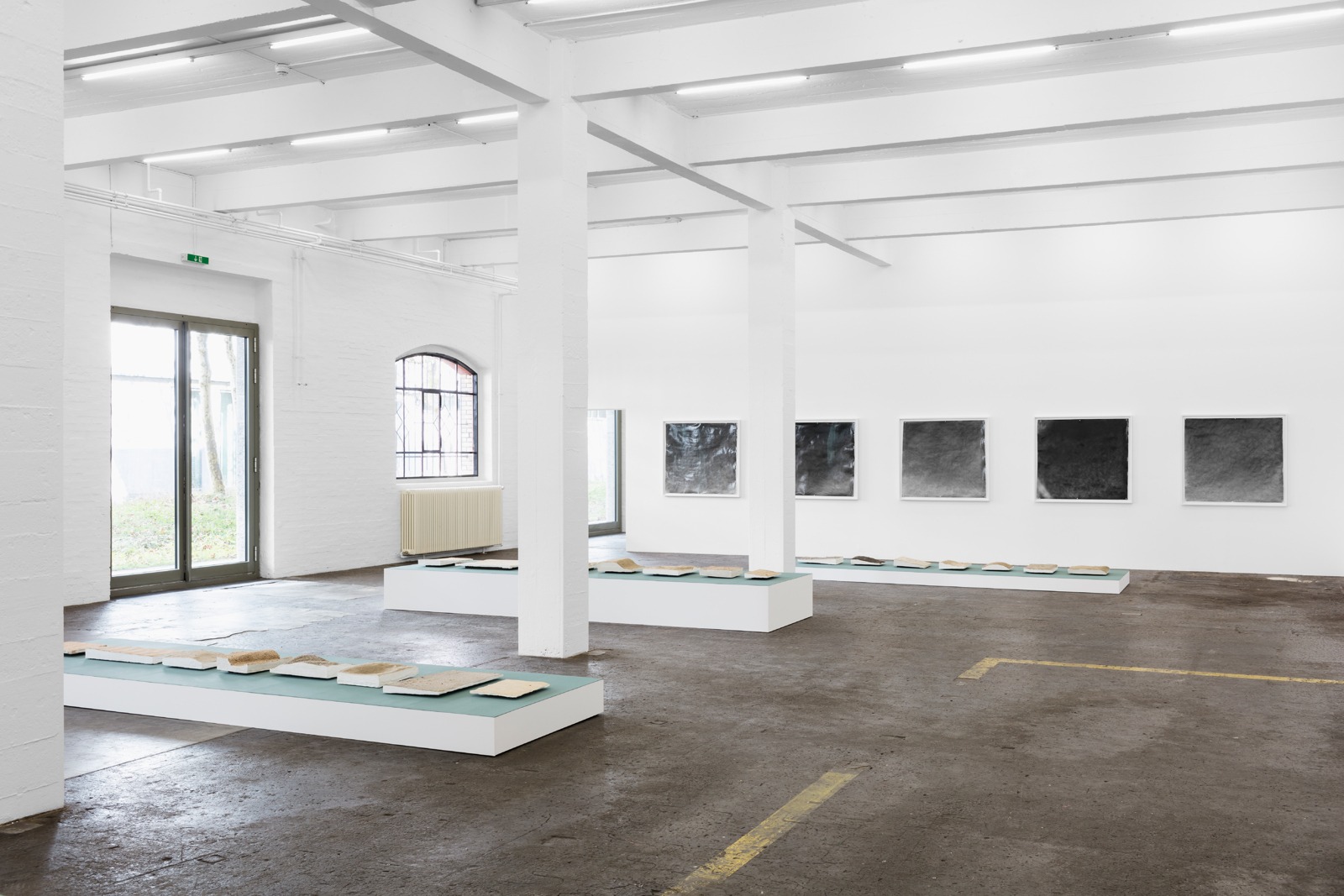 Renato Leotta, exhibition view, Gipsoteca, since 2015, ongoing (detail); Zeit und Wasser (Mondphase 1-5), 2017
Courtesy: the artist; Galleria Fonti, Naples; Galeria Madragoa, Lisbon
Photo: Kunst Halle Sankt Gallen, Gunnar Meier
RENATO LEOTTA
Eine Sandsammlung
29 September – 2 December 2018

The work of Renato Leotta (*1982) is closely connected to his place of origin, Sicily. It is here that he creates his works, which are often literally taken from Sicilian nature. Whether volcanic sand, sea water or the light of glow worms – Leotta uses nature as a starting point to create works of art that combine a minimalist vocabulary and poetry with ease.

Leotta's exhibition «Eine Sandsammlung» at the Kunst Halle Sankt Gallen shows a kind of sculptural archive of traces of the sea in the sand. Leotta's attempt to capture the moment when the waves hit the beach can be regarded as typical of the artist's way of working, who repeatedly shifts the natural environment of his homeland into an artistic context within poetic forms.

For this project, the artist visited various beaches in Sicily to record the encounters between waves and the beach. He made plaster casts directly on site and collected other materials such as sand, stones or shells. At the Kunst Halle Sankt Gallen, these found objects are presented in a display that underscores the archival idea, forms an exact and complex cartography, and at the same time demonstrates the impossibility of this artistic endeavour.

Renato Leotta (*1982 in Sicily/IT), lives and works in Turin/IT. He studied at the Istituto Europeo di Design in Turin and graduated in 2010 with a Master of Fine Arts from the Fondazione Spinola Banna per l'Arte in Banna/IT. Solo exhibitions (selection): Madragoa, Lissabon/PT (2017); Galleria Fonti, Neapel/IT (2015); Amstelpark, Amsterdam/NL (2014); Torre Piacentini, Genua/IT (2013). Group exhibitions (selection): Manifesta, Palermo/IT (2018); MAC, Sao Paulo/BR; Christina Guerra, Lissabon/PT; MAM, Vienna/AT; NAK, Aachen/DE; Palazzo Fortuny, Venice/IT (2017); Quadriennale di Roma, Rome/IT (2016); Palais des Beaux-Arts, Brussels/BE (2015).

The exhibition by Renato Leotta is supported by: philaneo and Q-International, a grant by Fondazione La Quadriennale di Roma.