Unmittelbare Konsequenzen
26 Nov 2016 - 12 Feb 2017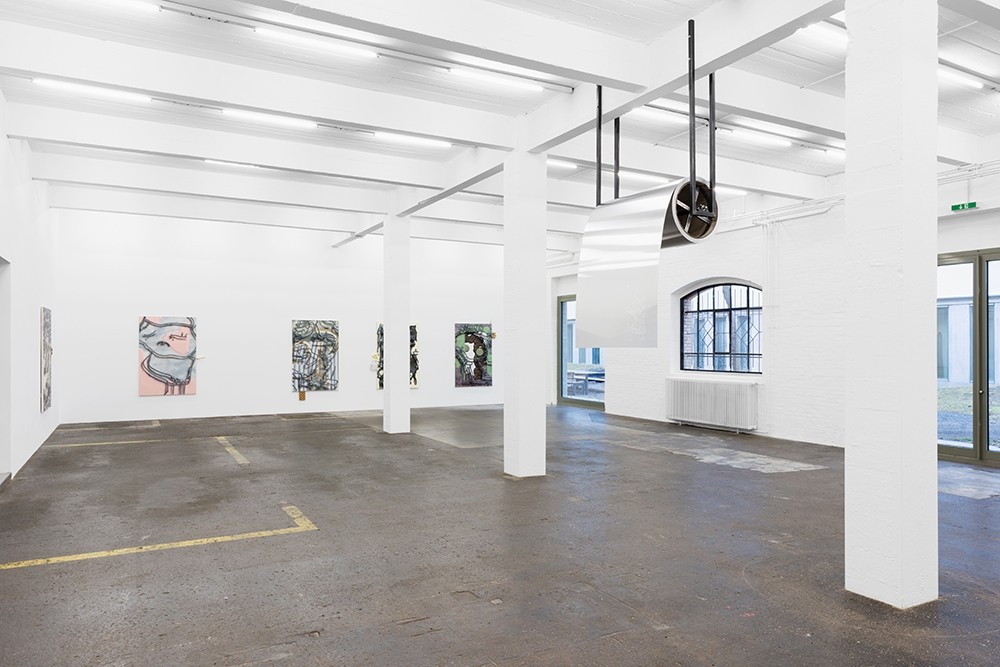 exhibition view, Kevin Aeschbacher, K.B., 2016
037, 2016
Ekstatische Teenager – tosender Beifall in den ausverkauften 4f-Orbitalen, 2016
Tiefstpreisgarantie, 2016 (with extentions)
Ramon Feller, Ittan Momen, 2016
Courtesy: the artists (K.B.: Clifford E. Bruckmann)
Photo: Kunst Halle Sankt Gallen, Stefan Jaeggi
UNMITTELBARE KONSEQUENZEN
26 November 2016 – 12 February 2017

With Kevin Aeschbacher, Ramon Feller, Nelly Haliti, Sophie Jung, Jan Vorisek/Anina Troesch

«Unmittelbare Konsequenzen» (Direct Consequences) is an exhibition that can take on a different form at any moment and which places the immediate at its heart. It focusses on the performative, the playful and the process-oriented bringing together various positions of young Swiss art. The contributions encompass temporal, spatial, material and social structures, whereby the transitory and mobile remain the focal points: moments where forms become affects, elements are animated, steering processes emerge and the coincidental can develop – despite the use of traditional genres such as painting or the inclusion of objects. Kevin Aeschbacher, Ramon Feller, Nelly Haliti, Sophie Jung and Jan Vorisek with Anina Troesch are appearing at Kunst Halle Sankt Gallen with performances, interactive works and installations.

Sophie Jung (*1982 in Luxembourg, lives and works in Basel and London) creates a space in her work for temporary definitions and plays with images and language. At the exhibition she is presenting assemblages of objects and texts which are to be animated and brought into dialogue with each other during three performances. Fresh and fragile narratives are created which call for supposed certainties.

Ramon Feller (*1988 in Uster, lives and works in Zurich and Basel) takes a different approach. He shows his interest in various experiences of time, dependencies within systems and processes of animation with installation-based works. The artist demonstrates temporal structures, among other things, with instructions for counting and interactive programming. His main work, a roll of aluminium with an engraved Japanese spirit-being, expands into an independent sculpture over the course of the exhibition.

In his works Kevin Aeschbacher (*1988 in Zurich, lives and works in Zurich) is concerned with the qualities of materials and surfaces, whereby he reproduces well-known references to materials and shapes in alienated form. Aeschbacher scrupulously transfers digitally generated pictorial worlds onto canvas with oil paint and supplements the painting at the Kunst Halle with a participatory component: sculptural elements on the picture frames can be activated as an additional mobilisation of spatial and material perception.

Nelly Haliti (*1987 in Martigny, lives and works in Geneva) is also mainly a painter but has recently worked increasingly with film, photography and programming. She is showing a multi-media installation made up of new paintings along with a digital projection on the basis of a real-time text which the artist continually renews over the course of the exhibition. By means of a random generator words and symbols overlap and encounter one another in ever new ways, thus creating unforeseen meanings.

Jan Vorisek (*1987 in Basel, lives and works in Zurich) and Anina Troesch (*1987 in Emmental, lives and works in Emmental) are putting together a place and time-specific work with an open outcome. In performative practice over the duration of the exhibition they develop a body of work that will be extended or reduced. They want to enter a kind of feedback loop that is dependent on various factors such as weather, the news or personal events.

«Unmittelbare Konsequenzen» presents multisided works from current Swiss art in which solid forms and truths are bid farewell. The artists' contributions should be seen as processes in continual transformation – as mobile conglomerates of subjects, objects, associations and mechanisms whose elements reciprocally animate each other and in the process celebrate the ungraspable and ephemeral.