Valentina Stieger
«Indoor Life
29 Sep - 02 Dec 2018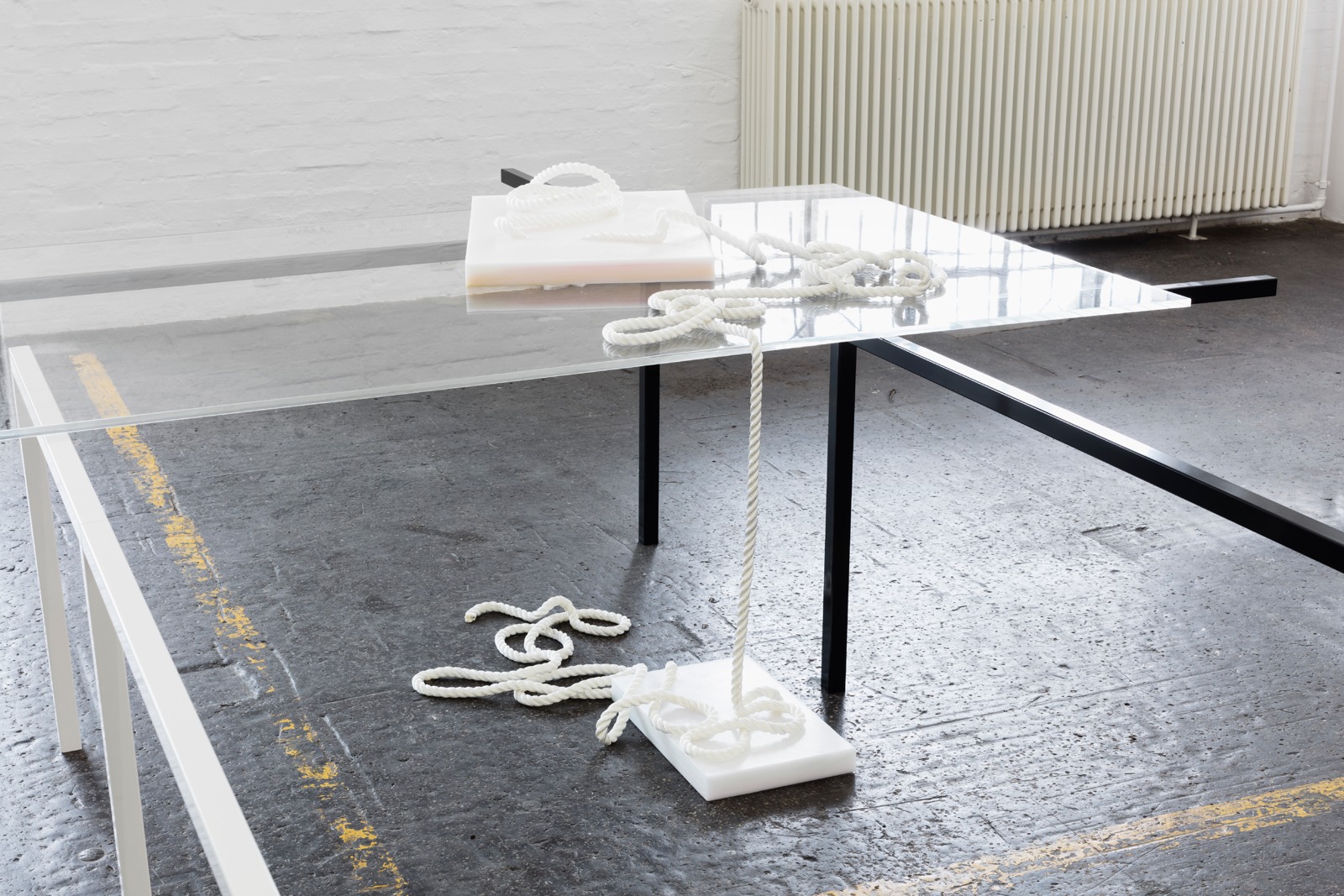 Valentina Stieger, exhibition view, Another Ambient System, 2018 (detail); Casted Conditions, 2018 (detail)
Courtesy: the artist and Stampa, Basel
Photo: Kunst Halle Sankt Gallen, Gunnar Meier
VALENTINA STIEGER
Indoor Life
29 September – 2 December 2018

Valentina Stieger (*1980) from St.Gallen is known for her installative and sculptural works which give rise to reinterpretations of the ordinary. The artist deals both with sculptural questions of post-minimalism and banal questions of taste in everyday life. Extraordinary forms and moments emerge that manifest themselves in precise spatial installations that are full of tension.

For the exhibition «Indoor Life» at the Kunst Halle Sankt Gallen Valentina Stieger developed her series Harmony Triumphs Again further and adapted it to the spatial conditions. Filigree metal frames, whose shape and dimensions are reminiscent of tables, extend through the exhibition rooms along the floor and the walls with the utmost precision. Here they form an almost three-dimensional coordinate system, which serves as orientation but is immediately deconstructed at the same time. Within a fixed set of sizes and proportions, Stieger plays with the various possibilities of composition and thus creates objects that, although still resembling furniture, have long since become independent sculptures. The objects deliberately have the same height as barriers in front of artworks in museums, and in places they also look like railings that guide visitors through the exhibition.

Wax objects bound to the metal frames function as abstractions of candles. By deliberately giving them a dominant role in the room, Stieger makes them more than just decorative elements. The artist consciously plays with materials, textures, surfaces and their effects. «Indoor Life» projects the viewers into a space that floats between a private home and representative contexts such as boutiques, department stores and museums.

Valentina Stieger (*1980 in St.Gallen/CH) lives and works in Zurich/CH. She studied Fine Arts at the FHNW Academy of Art and Design in Basel/CH and the Zurich University of the Arts, where she graduated in 2013 with a Master of Fine Arts. Solo and group exhibitions (selection): Alpenhof, St.Anton/CH; Hardraum, Basel/CH; Arte Castasegna, Bergell/CH (2018); Shedhalle, Zurich/CH (2017); Universität Zürich, Zurich/CH (2016); Kunstraum Engländerbau Vaduz, Vaduz/FL; Kunsthaus Glarus, Glarus/CH (2015); Kunstmuseum St.Gallen, St.Gallen/CH; Kunsthalle Basel, Basel/CH (2014); Kunstmuseum Liechtenstein, Vaduz/FL; Kunsthaus Langenthal, Langenthal/CH; Kunsthaus Baselland, Muttenz/CH (2013); rakete.co, Berlin/DE (2011).

The exhibition by Valentina Stieger is supported by: Arnold Billwiller Stiftung, Dr. Georg und Josi Guggenheim-Stiftung and Stiftung für Ostschweizer Kunstschaffen.