Yüksel Arslan
16 Jan - 24 Feb 2013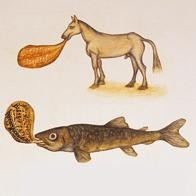 Yüksel Arslan
Arture 311, Influences (B)-44, (Secondary Infuences 5: R[aymond]. Roussel), 1983
Courtesy of the artist
YÜKSEL ARSLAN
Artures
Curators: Oliver Zybok, Lucas Gehrmann (Kunsthalle Wien)
16 January - 24 February 2013

"Artures," a portmanteau made up of "art" and names for art genres like "peinture" or "littérature," is how Yüksel Arslan calls his image and text combinations painted on paper in a special mixed media technique. In these works, the artist, who was born in Istanbul in 1933, focuses on the relationship between rational thinking and mysticism. Most of the subjects are taken from everyday life and deal with human accord and conflict.
The artist, who has lived and worked in Paris since 1962, has only gained international acclaim in recent years despite his contacts to prominent Parisian circles of artists like the Surrealists.

The exhibition "Artures" presented by the Kunsthalle Wien will be Yüksel Arslan's first solo show in Austria.

The exhibition has been on display in the Kunsthalle Zurich and the Kunsthalle Düsseldorf in 2012.