Luke Fowler
30 Aug - 02 Nov 2008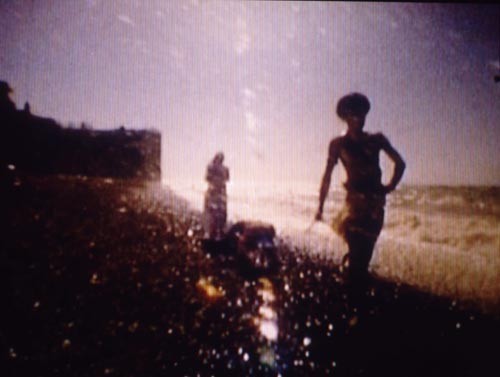 Luke Fowler
The Way Out (Still), 2003
(with Kosten Koper)
DVD
33 Min. 10 Sek.
Courtesy the artist and The Modern
Institute/Toby Webster Ltd, Glasgow
LUKE FOWLER
30 August – 2 November 2008

In conjunction with its Derek Jarman show, Kunsthalle Zürich is staging an exhibition of the work of British artist Luke Fowler (born in 1978, lives and works in Glasgow). Luke Fowler was the first winner of the inaugural Jarman Award in 2008, which is given to young filmmakers who stand out for their delight in experimentation, innovative approach and exceptional vision, and whose work challenges traditional boundaries and conventional definitions.

Luke Fowler is seen as a key figure on the Glasgow scene where he works as an artist filmmaker and musician. He participates actively in the experimental music scene through his bands Rude Pravo and Lied Music, both of which use a combination of traditional and adapted or invented instruments. Fowler also runs the SHADAZZ multimedia platform whose activities include, inter alia, the production of LPs in collaboration with other musicians and artists.

Fowler challenges the classical conventions of documentary film in his film works. He subverts the structural syntax and collages found, apparently forgotten and own footage with photographs, diagrams and scripts to create a new kind of filmic mesh. In doing this some critics have suggested he aligns himself with the British Free Cinema movement, a documentary film movement that emerged in England in the 1950s, whose hallmark was the rejection of traditional narrative structure in film.

Past and forgotten histories, radical and experimental ideas, ideologies and their protagonists are central to Fowler's films. What You See Is Where You're At (2001) focuses on the "Kingsley Hall Experiment" carried out by Scottish psychoanalyst and author R.D. Laing. The collaborative film, The Way Out (2003, with Kosten Koper), portrays Xentos "Fray" Bentos, a founding member of the band The Homosexuals, and explores Xentos's multifaceted character through formal play with contradictions and fragments. Bogman Palmjaguar (2007) tells the story of a man who turned his back on his fellow human beings and withdrew to nature following his diagnosis as a paranoid schizophrenic. Fowler succeeds in reflecting the content of his films in their formal structure. The recipient is inspired to re-examine his/her own relationship with the story. The works bear radical and energetic witness to the fact that film has the capacity to go beyond its boundaries both as an art form and as documentation.

The exhibition at the Kunsthalle Zürich unites for the first time a large selection of Luke Fowler's filmic oeuvre in a single show. Along with a film made specially for the exhibition, i.e. An Abbeyview Film (2008), a poetic survey of life in a deprived housing estate in Dumfermine, Scotland, and a selection of still photographs, the films Bogman Palmjaguar, The Way Out and What You See Is Where You're At will also be shown on alternate weeks over the course of the exhibition.

Films at Kunsthalle Zürich Parallel:

What You See Is Where You're At (2001)
DVD, 24 Minutes
The Scottish psychiatrist, psychoanalyst and 60's zeitgeist writer R.D. Laing's "Kingsley Hall" experiment (Philadelphia Association 1965-1969) is the focus of this film. Kingsley Hall broke down the established norms of "treatment" for people undergoing severe mental distress. The pre-conceived hierarchy was dismantled, making it difficult to distinguish "doctor" from "patient". The film collages "found" and archived sound/film recordings to give an insight into the experiences of Kingsley Hall's residents.

The Way Out (2003, with Kosten Koper)
DVD, 33 Minutes
This collaboration profiles Xentos "Fray" Bentos, one of the founding members of The Homosexuals, a band that lapsed into obscurity after self-releasing a number of groundbreaking records in the post-punk period. Although The Homosexuals disbanded without ever releasing an authorised LP, L Voag (aka Xentos) released his own solo project, The Way Out, in 1979. The Way Out was a cut-up DIY concept album that imagined its musical context situated in an inverted parallel universe where pop music is made by Modernist composers and the avant-garde is left to those on the fringes of acceptance. Under a myriad of multiple identities, Xentos continued to produce and distribute a mass of diverse tape projects throughout the eighties on his own label, It's War Boys. The film interweaves new interviews, scripted scenes, and found and filmed footage with unearthed Super-8 films by Xentos himself.

An Abbeyview Film (2008)
16mm film, duration to be confirmed
Commissioned by Abbeyview artist in residence (2007-2008) Nicola Atkinson Davidson as part of regeneration funding for a deprived housing estate in Dumfermline, Scotland. Rather than choosing a clear stance in relation to the subject of a deprived area, Fowler offers a contingent, at times contradictory, poetic snapshot of a community. The film resists traditional documentary and cinematic representation of housing estates, striving instead to build an aesthetic of ambivalence and hope.

Bogman Palmjaguar (2007)
16mm/super 8 transferred to Video, 30 minutes
Bogman Palmjaguar is a portrait of a man who became distrustful of people and withdrew into nature. Bogman is passionate about the threatened habitat of Scotland's Flow Country. But Bogman's early life and subsequent diagnosis as "paranoid schizophrenic" conditions his relationships with other people. Describing himself as "the hidden cat" and "wild outlaw of paradise", Bogman is taking legal action to remove the label "paranoid schizophrenic". His is both a search for justice and an attempt to find reason in the course his life has taken over the past three decades. Lee Patterson's evocative field recordings accompany the images.