Andy Warhol
02 Feb - 14 Apr 2013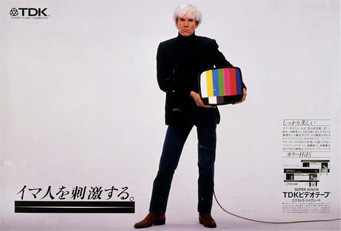 Andy Warhol for TDK,
ca. 1980 Printed ink on
coated paper 34.3 x 47.6 cm Collection ofThe Andy Warhol Museum, Pittsburgh
ANDY WARHOL
Fifteen Minutes of Fame
2 February - 14 April 2013

Andy Warhol (1928–1987) is one of the most influential 20th-century artists whose impact is still with us today. With his technique of serial silkscreen printing in the 1960s he turned the work of art into the perfect mass product, opening-as author and protagonist-the art world to celebrity culture and relativizing the border between high art and mass art as no other artist has done. In addition to his reproductions of the star system in silkscreen prints, photographs, and films, Warhol consistently staged his own person as a living art work.

»I love television, it is the medium I'd most like to shine in,« Warhol wrote in his The Philosophy of Andy Warhol (1975). »I'm really jealous of everybody who's got their own show on television. I want a show of my own.« In the late 1970s, this self-confessed TV addict's plans took on shape. Following the founding of his magazine Interview in 1969, his first foray into the media world, Warhol devoted himself between 1979 and 1987 to the ultimate mass medium, producing 42 of his own television programs, which were broadcast by various stations in the USA. His obsessive interest in beauty, the cult of stardom, and pop reached its definitive peak here. His first series, the ten-part TV journal Fashion (1979-80) restricted itself to the fashion world, but in his subsequent programs Andy Warhol's TV (1980-83) and Fifteen Minutes (1985-87) broadcast by MTV, he brought on an impressive range of stars from fashion, music, film, art, and the gay scene: from members of The Factory, drag queens, Grace Jones, Debbie Harry, Paloma Picasso, Cindy Sherman, Keith Haring, and David Hockney to the fashion designer Kansai Yamamoto and film directors such as John Waters. The programs created a new principle. Translating a celebrity and lifestyle magazine into TV format, they gave insight into Warhol's inimitable interviewing strategy and his cult of the surface. A quarter of a century later his TV programs are like a spot-on prophecy of the booming reality TV, celebrity culture, and social media that have meanwhile spread so dramatically and become industrialized.

Andy Warhol-Fifteen Minutes of Fame will present a representative selection from this less-known complex of Warhol's works, thus resuming the KUB Arena's engagement with the visual arts at their edges. The exhibition title is based on Warhol's famous remark of 1968: »In the future, everybody will be world-famous for fifteen minutes,« which set the tone for his last, five-part TV production Fifteen Minutes. Etienne Descloux and Oda Pälmke of the Berlin architectural practice PE-P will be designing a special exhibition architecture for this presentation of Andy Warhol's TV works.