Maria Eichhorn
10 May - 06 Jul 2014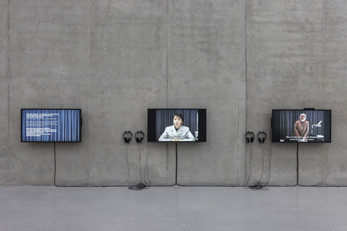 Maria Eichhorn
Curtain (Denim) / Lectures by Yuko Fujita, Mika Ohbayashi, Hildegard Breiner, (1989/1997/1998/2014)
Installation view 1st floor, Kunsthaus Bregenz
Foto: Markus Tretter
© Bildrecht, Wien, 2014 und Kunsthaus Bregenz
MARIA EICHHORN
10 May - 6 July 2014

There are only very few artists like Maria Eichhorn, whose work possesses such an extremely rigorous conceptual charisma but which also occasionally engages in a subtle humor, one with which she continually succeeds in being surprising. By means of visually minimal gestures, interventions, and large-scale works Maria Eichhorn analyzes, in vexingly enduring ways, behaviors that have been socially shaped as well as political and economic interrelationships. She frequently focuses her attention on the art system in particular.
A vivid example of this approach was her contribution to Documenta11 in Kassel (2002), when she used her project budget to found a corporation, the peculiar status of which prescribes that its capital may not increase. The breadth of Maria Eichhorn's practice is again illustrated by her Film Lexicon of Sexual Practices: begun in 1999, she has produced 11 films to date, bearing such titles as Breast Licking, Cunnilingus, French Kissing, and Love Bite. These less than 3 minute long 16 mm films depict the activity named in the respective title, in detailed close-up. Eichhorn's work Curtain from 1989 is likewise based on the format of a series which spans a long period of time. In her exhibition at Kunsthaus Bregenz a denim curtain from this series will completely cover one of the almost twenty meters long and over four meters high walls.

In addition to updated versions of some of her best-known works, such as Maria Eichhorn Aktiengesellschaft (Maria Eichhorn Public Limited Company), Film Lexicon of Sexual Practices, and Curtain (Denim) | Lectures by Yuko Fujita, Mika Ohbayashi, Maria Eichhorn's exhibition at the Kunsthaus will also include a new work especially created for Bregenz. Despite all the rationality which seems, at first glance, to determine her work, not infrequent moments exist involving emotional and irrational questions, such as the relationship of people to money, sexuality, or, as in her new largescale work especially produced for Bregenz, the locating of water with the aid of pendulums and dowsing sticks. For example what, on the third floor, at first glance looks like a floor piece in the tradition of Minimal Art, is on closer examination revealed to be the result of the measuring of various phenomena such as radiation from earth, water, and other emissions.
Following solo exhibitions in renowned institutions — in Switzerland, Germany, the Netherlands, Spain, Japan, and Canada, amongst others — the exhibition at Kunsthaus Bregenz will be the first large-scale presentation of Maria Eichhorn's work in Austria.