On the Move
27 Apr - 30 Jun 2013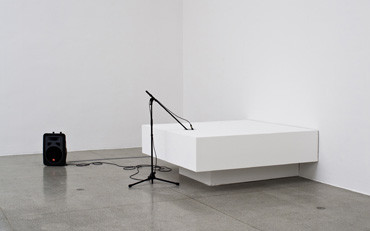 © David Maljkovic
Display for Lost Pavilion
at Metro Pictures,
New York, 2011
Mixed media
Installation view, Vienna Secession
Courtesy of the artist
ON THE MOVE
European Kunsthalle at the KUB Arena
27 April - 30 June 2013

Project-based, performative, on the move—is a possible description of the European Kunsthalle's program. Founded in Cologne in 2005 as a discursive platform without any fixed premises, it has developed its own forms of institutional action. As a contemporary art institution that combines a wide range of artistic procedures and interventions in current art and cultural debates, it exists wherever its projects take place. The European Kunsthalle itself has the attributes of an event, appearing only to disappear and then reappear somewhere else.
In the exhibition On the Move. European Kunsthalle at the KUB Arena it is precisely these aspects of performativity, of the appearance and disappearance of temporary artistic and institutional spaces, that are being focused on and raised for discussion. Drawing on elements of past European Kunsthalle activities, on staging strategies and general questions around cultural, social, and institutional spaces, the participating artists developed a wealth of ways of looking at the principle of »eventfulness« and its implications.

After examining archive materials, the Macedonian artist Yane Calovski suggests a subjective reading of European Kunsthalle history in the drawings he has developed for the exhibition, while David Maljkovic focuses on engaging abstractly with exhibitory presentational forms and their reduction to their equipment. Stephen Willats, whose multimedia work In And Out the Underworld for the Ebertplatz square in Cologne brilliantly captured the social aspect of this site in 2009 transfers his ideas to the exhibition space in a version of the work specially conceived for the KUB Arena. The starting point of Johannes Wohnseifer's work is his invitation to Mark Gonzales in 1998 to use specially created sculptures as ramps for a performance in the exhibition rooms of the Städtisches Museum Abteiberg Mönchengladbach, with a view to probing the boundaries between public and museum space. Additionally, both Nick Mauss and Charlotte Moth have developed new works for the Bregenz exhibition.

The exhibition architecture of fiber cement panels was designed by the artist Dorit Margreiter together with the architect duo Luciano Parodi and Lina Streeruwitz. The idea goes back to a design by Dorit Margreiter for a pavilion, never actually built, for the European Kunsthalle c/o Ebertplatz project in 2009. The panels from which the pavilion was to have been constructed are laid out like a carpet at Kunsthaus Bregenz. Parts of the carpet have been set upright. Together the horizontal and the upright panels create an open spatial sequence for the works on exhibition.
Following the cooperation with the Van Abbemuseum in Eindhoven in 2011, the KUB Arena's present invitation is the second to an institution whose modes of work and program display many parallels with those of the KUB Arena itself.