Rachel Rose
04 Feb - 17 Apr 2017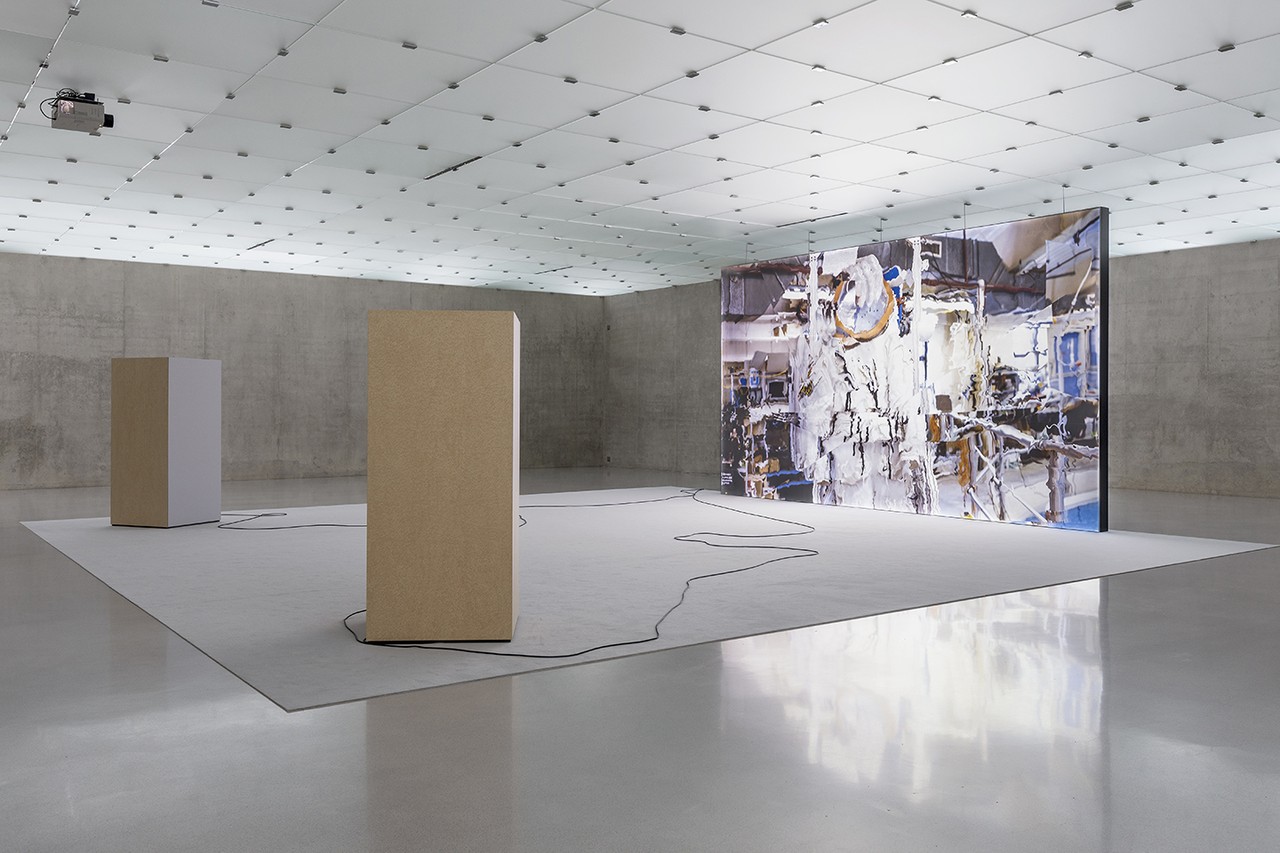 Rachel Rose
Everything and More, 2016
Exhibition view second floor, Kunsthaus Bregenz
Photos: Markus Tretter
Courtesy of Rachel Rose, Pilar Corrias Gallery, London and Gavin Brown's enterprise, New York
© Rachel Rose, Kunsthaus Bregenz
RACHEL ROSE
04 February — 17 April 2017

»A work starts from very everyday,
often subtle feeling. The work becomes
an opportunity to learn about another
place and time and consider how it might
be connected this present state.«
Rachel Rose, New York, May 2015

Rose is the shooting star of the current US art scene. Her working materials are not images but the senses. Kunsthaus Bregenz, designed by architect Peter Zumthor as a space of intense corporeal experience, is the ideal venue for her video works.

Rose's presentations embrace a location's specific conditions. At the Serpentine Galleries in London she presented videos and entwining soundtracks, intermeshing inside and outside. In sensitive perception, boundaries to the outside world dissipate. Images are delivered by the senses; we are the points of convergence of waves, particles, ethers, and flows. Rachel Rose ably demonstrates all this in the fluid aesthetics of Everything and More: colors dissolve, sounds become oily, forms decompose, and stability founders. »Collage and catastrophe« (Rose), these are the subject matter of this American artist born in 1986, the youngest artist ever to be invited to stage a solo exhibition at Kunsthaus Bregenz.

The New York architectural office MOS also plays a part in the exhibition in Bregenz. The office, which represented the USA at last year's Architecture Biennale in Venice, is designing the additional fixtures for the exhibition. Carpets, screens, and loudspeakers have been conceived in collaboration with Rose and fabricated for the exhibition spaces in Bregenz. In unison with the permeating daylight, they create an ambience in which the sensuous is filtered, enriched, and deepened.

Rachel Rose sees surfaces not as a barrier, but as transparent planes and permeable layers. Modern architecture invented transparent façades to open up interior spaces, epitomized in glass building. One such example is Philip Johnson's Glass House in New Canaan, Connecticut. Rose has created a cinematic portrait of this pavilion. Impressions of a painting by Nicolas Poussin from the interior become suffused by the surrounding nature, whilst the architect himself makes a ghostly cameo appearance. His blurred presence acts as a guide through his own building, infiltrating space, the garden, and borders — history and the present, image and metaphor merge.
Thomas D. Trummer

Rachel Rose was born in 1986 in New York. She graduated from Yale University, the Courtauld Institute of Art, and Columbia University. Rose lives and works in New York.
Rose's recent solo exhibitions include: Lake Valley at the Pilar Corrias Gallery, London (2016); Everything and More at The Aspen Art Museum, Aspen; Everything and More at The Whitney Museum of American Art, New York (2015); Palisades at the Serpentine Sackler Gallery, London (2015); as well as Interiors, Castello di Rivoli, Turin (2015). An exhibition of her work is currently on display at Fundação de Serralves, Porto (2016); and she is in addition participating in the São Paulo Biennial, São Paulo (2016).