Rosemarie Trockel
24 Jan - 06 Apr 2015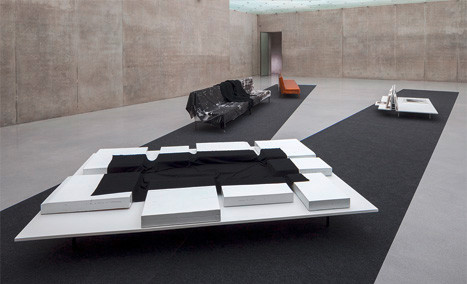 Märzôschnee ûnd Wiebôrweh sand am Môargô niana më
Installation view 2nd floor, Kunsthaus Bregenz
Photo: Markus Tretter
© Rosemarie Trockel, Bildrecht Wien 2015 and Kunsthaus Bregenz
ROSEMARIE TROCKEL
Märzôschnee ûnd Wiebôrweh sand am Môargô niana më
24 January - 6 April 2015

There are only a few artists like Rosemarie Trockel, whose works have always been able to retain their ambiguity in the face of great popularity. In a career spanning more than 30 years, encompassing such internationally renowned exhibition events as documenta (1997 and 2012) as well as the German Pavilion at the Venice Biennale (1999), and which has led the way to the world's major museums, the artist has succeeded in creating new work complexes, objects and images that are continually surprising. There had already been a great furor in the 1980s surrounding the reception of her wool works, machine knitted woolen fabrics attached to stretchers and then displayed as pictures. In a second group of works she assembled ordinary hotplates on shiny, white, enameled metal panels. Objects with gender specific connotations were again re-contextualized, as had already occurred in the knitted pictures. These abstract works mainly originate from the 1990s and were the ones that secured Trockel's place in the history of 20th century art.

Rosemarie Trockel, who participated in the group exhibition Love is Colder than Capital in Bregenz at the beginning of 2013, has created a wide-ranging exhibition under the title Märzôschnee ûnd Wiebôrweh sand am Môargô niana më especially for the Kunsthaus.

The cryptic character of this title in Vorarlberg vernacular consciously creates connections to the region, as do some of the exhibits, which were a result of the artist's sojourn in the area. Fashion, customs, and specific roles that are assigned socially and by gender are reflected in these works, in which the traditional fabrics of the local Bregenzerwälder festive Tracht are recontextualized.

An additional focus of her Bregenz exhibition will be the presentation of print works, which are being shown in such diversity for the first time. In Peter Zumthor's spaces that shift between cool elegance and the serenely atmospheric, she is also showing another group of works —sculptures that orientate themselves towards furniture, some of them covered in plastic sheeting that conspicuously deprives them of their customary use.

Rosemarie Trockel's first major solo exhibition in Austria for more than twenty years generates new perspectives on the artist's compelling and diverse work.

Rosemarie Trockel, born in 1952 in Schwerte, lives and works in Cologne. From 1974 to 1978 she studied under Werner Schriefers at Cologne University of Applied Sciences, formerly the schools of visual art, architecture and design. In 1983 her first gallery exhibitions took place with Monika Sprüth in Cologne and Philomene Magers in Bonn. The Rheinisches Landesmuseum Bonn was the venue of her first exhibition in a museum in 1985. Her work was shown to great acclaim in 1988 at the Museum of Modern Art, New York, in 1991 at the Museum of Contemporary Art, Chicago, and the Institute of Contemporary Art in Boston. She has also participated in numerous exhibitions in Europe. Highly regarded solo exhibitions have been staged at the Museo Nacional Centro de Arte Reína Sofia in Madrid, the New Museum in New York, as well as the Serpentine Gallery in London (2012/2013), at WIELS-Centre D'Art Contemporain in Brussels, at Culturgest in Lisbon, along with the Museion Bozen (2012/2013), and the Kunsthalle in Zürich (2010).

In 1999 she was the first female artist to stage the German Pavilion at the Venice Biennnale, which she took part in again in 2013. She was a participant in documenta in Kassel in both 1997 and 2012.

In addition to numerous other prizes she was awarded the Goslar Kaiserring in 2011 and the Roswitha Haftmann Prize in Zürich in 2014.