Valie Export / Archive
29 Oct 2011 - 22 Jan 2012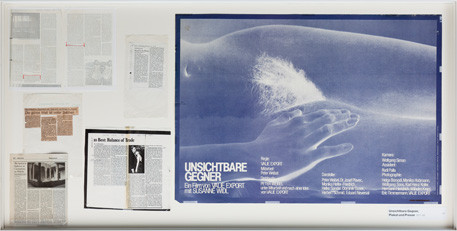 © VALIE EXPORT
Unsichtbare Gegner – Plakate + Presse, 1977 - 98
Display cabinet no. 57,
1st floor, Kunsthaus Bregenz
VALIE EXPORT / Archive
29 October, 2011 - 22 January, 2012

The exhibition, VALIE EXPORT / Archive, provides the opportunity to rediscover an internationally renowned artist whose works are counted among the canon of 20th century art history and represented in many important museum collections. In this unusual and surprising presentation at the Kunsthaus Bregenz, in part, works that hitherto have not been exhibited will be on show.

In addition, for the first time in her long history of exhibitions, VALIE EXPORT is providing insights into her comprehensive archive that, to the present day, remains inaccessible to the broad public.

Her most important works, such as TAPP und TASTKINO, Aktionshose: Genitalpanik and BODY SIGN ACTION, will not simply be presented separately as autonomous pieces, but in conjunction with the reference materials relevant for their making. For her films, for instance, VALIE EXPORT not only wrote visual scripts but also made drawings and Polaroids. Display cabinets in a display conceived by Kuehn Malvezzi together with the artist bring together photos of the film-shooting, posters, scripts as well as reviews of the individual feature films. This diversity illustrates the complex process of their making and reception. In this sense, in Bregenz many of VALIE EXPORT's main works will be placed in the context of their genesis by means of preparatory conceptional drawings, statements, and collages, as well as photos.

In 57 large cabinets, in which VALIE EXPORT has together with Yilmaz Dziewior arranged material from her archive according to works and themes, a panorama is unfolded that not only lays out the artist's multifaceted core oeuvre, but also provides an eloquent account of experimental art from the 1970s through correspondence, newspaper clips, and texts.

The treasures of the archive that have never been shown to date also include an extensive collection of beer coasters, cigarette packs, newspaper articles, and other memorabilia on which the word "Export" can be read. The artist has been collecting them since the start of her career, when she adopted the artist's pseudonym, VALIE EXPORT. For the first time, together with two documentary photos, the work Sommerjacke from 1973 will also be presented, in which dried grass and paper are sewn into the seams.

Dramaturgically, the exhibition is conceived in such a way that it intentionally thematizes temporal leaps. After the first floor shows the display cabinets for the archive, on the second floor, the work Fragmente der Bilder einer Berührung – done already 17 years ago in Bregenz for her solo exhibition in Magazin4 – will be presented in an arrangement especially conceived for the KUB. On this floor there are further re-encounters when visitors come upon photographs and installations whose phases of making and contexts of reception they were able to discover a short time before in the archive display cabinets. The new works that VALIE EXPORT has realized for her Bregenz exhibition on the basis, or as a fur ther development, of material that she discovered while going through her archive should be especially mentioned.


1 VALIE EXPORT
Installation view 2nd floor, Kunsthaus Bregenz
2+3 VALIE EXPORT
Installation view 3rd floor, Kunsthaus Bregenz

© VALIE EXPORT/VBK, Vienna, 2011



On the top floor, a downright 'film forest' is presented with more than twenty works in various media and presentation formats. The large, uniform room is structured by a multitude of screens. Other films have been, or already were, converted for DVD. More works from VALIE EXPORT's various phases of development are shown on monitors and, together with the other (moving) images, form a total presentation that illustrates the enormous range in both content and media of this significant artist.

VALIE EXPORT (born 1940 in Linz, lives and works in Vienna) is counted amongst the most important international pioneers of conceptual media, performance and film art. Since1968 she has had international solo exhibitions and presentations of her work and participated in international exhibitions, amongst others at Centre Georges Pompidou, Paris; The Museum of Modern Art, New York; Institute of Contemporary Art, London; Venice Biennale, Venice; documenta, Kassel; MoCA, Los Angeles; Stedelijk Museum, Amsterdam; MUMOK, Vienna; Generali Foundation, Vienna; P.S.1 Contemporary Art Center, New York; Shanghai Art Museum, Shanghai; Palais des Beaux-Arts, Brussels; Tate Modern, London; Metropolitan Museum of Art, Seoul, Korea; Metropolitan Museum, New York; and ars electronica, Linz. She has participated in international film and video festivals, amongst others London Film Festival; Filmex, Los Angeles; Internationale Filmfestspiele Berlin, Cannes, Montreal, Vancouver, San Francisco, Locarno, Hong Kong, Sydney, New York, etc.