Artificial Facts - Boundary Objects
20 Jun - 20 Sep 2015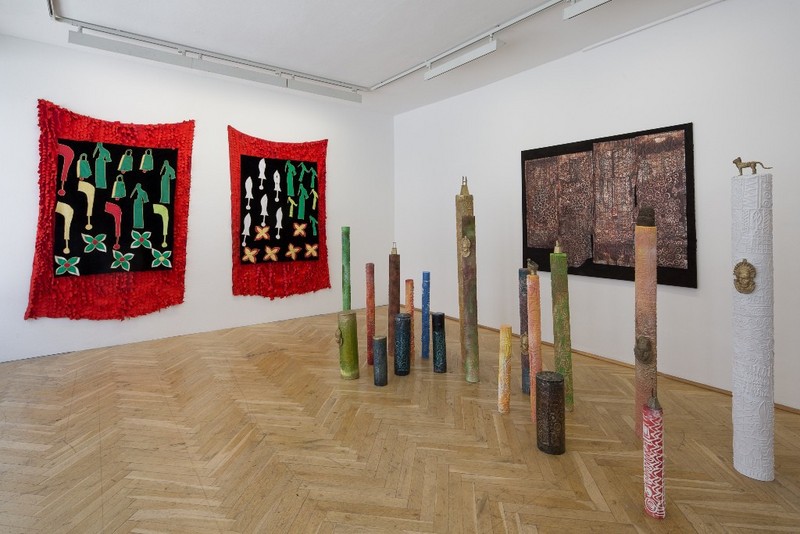 Peju Layiwola Columns of Memory 2015 Installation Meduim, Plastik, Bronze, Aluminiumfolie, Stoff. Installationsansicht Kunsthaus Dresden, Foto: David Brandt
ARTIFICIAL FACTS - BOUNDARY OBJECTS
20 June – 20 September 2015

Kader Attia (Berlin/Algiers), Burning Museum (Cape Town), Sammy Baloji (Lubumbashi/Brussels), Peju Layiwola (Lagos), Michelle Monareng (Johannesburg), Paulo Nazareth (Belo Horizonte), Lisl Ponger (Vienna), Jorge Satorre (Mexico City/Barcelona), Penny Siopis (Cape Town), Dierk Schmidt (Berlin), Emma Wolukau-Wanambwa (London/Innsbruck/Kampala)
Curated by Sophie Goltz (Hamburg/Berlin)
[Due to the fact that a final clarification of the provenance of the works signed K.W. can not be effected, these works have been removed from the exhibition on September2, 2015. The press documentation can be found in the link list above.]

The showcases of the Ethnological Museum are shattered. Current debates in discourse among museums and in contemporary art are focusing on the future of European and African collections whose historical origins are directly tied to colonial geographies and ethnographies. In the light of the historical situation—the racist practice of human zoos, colonial exhibitions, medical-historical collections to classify humans, and one of the most extensive ethnological collections in Europe—questions related to restitution, the treatment of human remains and cultural heritage are attaining significance also for Dresden and Saxony.With the exhibition Boundary Objects, the research and exhibition project Künstliche Tatsachen [Artificial Facts] (2014/2015) opens its third and final station in Dresden, following Cape Town (South Africa) und Porto-Novo (Benin). Works by international artists, partly created especially for the exhibition, pose a challenge to the visual colonization of the museal gaze, examining established visual regimes and calling the gestures of displays and represention—and ultimately the construction of the "other" in the museum—into question. The artists are interested in the future status of objects that were once collected as pieces of cultural-historical evidence, as souvenirs and trophies, and are today increasingly attributed to a globalized World Art. The showcases once used to display artefacts are now being replaced by spotlights and pedestals.Applying the term 'Boundary Objects', the exhibition focusses on the potential of objects to transcend established contexts and meanings: As opponents of their own history, the objects become mediators for larger contexts of a shared commemoration of the violence of unethical collecting, which filled the European museums of the 19th and early 20th century, and for the creation of new, transcultural narrations.

Artificial Facts is a project of Kunsthaus Dresden. Städtische Galerie für Gegenwartskunst together with the artist group Artefakte//aktivierung (Brigitta Kuster, Regina Sarreiter, Dierk Schmidt), the curator Sophie Goltz in collaboration with the partners Burning Museum (Tazneem Wentzel, Scott Eric Williams, Jarrett Erasmus, Grant Jurius, Justin Davy) in Cape Town (ZA), the École du Patrimoine Africain in Porto-Novo (BJ) and the University Abomey-Calavi in Cotonou (BJ).

Research and exhibition project – supported by the TURN Fund (Federal Cultural Foundation) and and IFA (Institute for Foreign Cultural Relations).
The activation in Cape Town is also supported by the Goethe-Institute in South Africa.