Neil Beloufa
13 Nov 2011 - 22 Jan 2012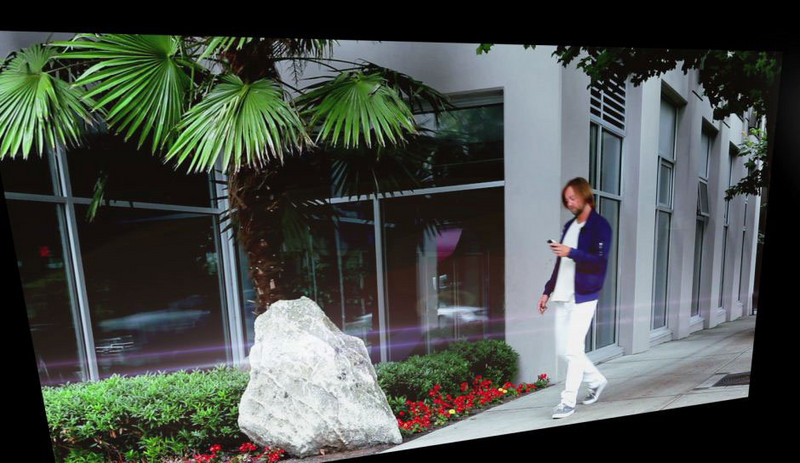 © Neil Beloufa
People's Passion, Lifestyle, Beautiful Wine, Gigantic Glass Towers, All Surrounded By Water, Videostill, 2011
Photo: Neil Beloufa
NEIL BELOUFA
Topics Values
13 November, 2011 – 22 January, 2012

Neil Beloufa (b. 1985 in Paris, lives and works in Paris) always works in cross-media, combining video, installation, sculpture and conceptual photography into an integrated work-cosmos. Beloufa often works with the methods of ethnographic observation and interviews and embraces complex contemporary social themes as well as aspects of Science Fiction and speculation. In the contexts of exhibitions, Beloufa undertakes precise interventions in the architecture. The fragmented exhibition structures built from scrappy materials sometimes also conflict with the structure of the exhibition space and cause irritation on the levels of both film and architecture. Recurrent elements in his installations are fragmented and shifted perspectives on screens as well as especially in earlier works the colour of the green screen used for producing special effects in the film studio, both interrupting a one-dimensional view on the video. Neil Beloufa integrates this concept of deconstruction of the screen and of the blank space in his spatial work to transform his installations into fragmentary settings.

In his exhibition in the Kunsthaus Glarus Beloufa presents a combination of various works to make a spatial parcours. The individual nodes around various video works deal in each case with visions of the future of various people and places in the high-tech North American environment in Vancouver, in Paris and in the developing country of Mali, which are characterised both by a hypnotic faith in a very promising future and also by a magic-apocalyptic resignation, and which appear as science-fiction-like caricatures of future societies.

In his new video work People's passion, lifestyle, beautiful wine, gigantic glass towers, all surrounded by water (2011) he focuses on reports from the inhabitants concerning a North American "Corporate City". Several people describe the life of the people in this city modulated with green and water areas, sports places and transparent glass architecture, where leisure time and work are perfectly integrated and the people always act in a friendly working environment with a sense of conviction and without pressure for economic success. The narratives move on a subtle boundary between mythological notions of paradise, fictitious future visions and real present-day descriptions, utopian Science fiction and suggestive advertising spots for a place of dreams come true.

Alongside that, his video work Kempinski (2007) shows a remarkably dystopian scene, located somewhere between ethnographic documentation and Science Fiction. A group of people outside Bamako in Mali, in a neon-lit, nocturnal setting, narrate in the present tense about their distant future, where domesticated animals and humans live in family-like communities, where machines and tools behave like humans, where telepathy is possible between the genders and where it is possible to move in space without a loss of time. The narratives create surreal images of a life where no distinctions are made between humans, animals and things. Neil Beloufa's role in this work is that of someone who partly documents things as a western observer and also uses his family background in North Africa to reflect on his own part in the current situation in Africa. In the vacuum of discrepant lifestyles a space for reflection opens up, which also profoundly negotiates the expectations of a western audience regarding African visions of the future, and the reverse. Neil Beloufa shows us an image of Africa that anticipates an ambivalent future, based less on economic and social progress than on a kind of futurist animism. Far from all clichés and stereotypical parameters of the world order, the work displays the relativity of western-centred perceptions, and also of reality itself.

From 2004 to 2009, Neil Beloufa studied visual arts at the Ecole Nationale Supérieure des Beaux-Arts and at the Ecole Nationale Supérieure des Arts Décoratifs in Paris, at the Cooper Union in New York and at CalArts in Valencia. Since then his work has been shown internationally in solo and group exhibitions (David Roberts Foundation, London 2011), Biennales (Young Artists' Biennale, Bucharest 2010, and Manifesta 8 in Murcia 2010) as well as at film festivals (Film Festival Oberhausen 2008). For his work Kempinski he was awarded the ARTE prize for a European short film at the Oberhausener Short Film Festival 2008, the prize of the German foreign office for intercultural dialogue at the European Media Art Festival in Osnabrück in 2008 and the Short Film Grand Prize at the IndieLisboa Filmfestival 2009. The Kunsthaus Glarus is showing the first solo exhibition of this artist in an institution.