Henri Cartier-Bresson
17 Nov 2011 - 26 Feb 2012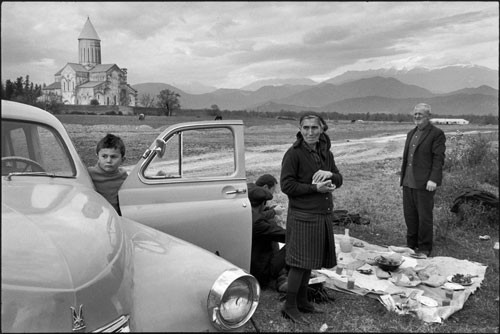 Henri Cartier-Bresson
GEORGIA. Kakheti. Telavi. 1972. Monastery Alavardi (XIth century). Visitors from the kolkhozes, celebrating Saint George.
HENRI CARTIER-BRESSON
The Compass In The Eye: America-India-Soviet Union
17 November 2011 - 26 February 2012

With his extensive photographic oeuvre and his book The Decisive Moment, published in 1952, Henri Cartier-Bresson (1908 - 2004) has influenced generations of photographers. In this exhibition, which is devoted to his journeys in the USA, India and the Soviet Union, KUNST HAUS WIEN focuses on a little known aspect of this co-founder of the Magnum photo agency.

As a young man, Henri Cartier-Bresson studied painting in Paris, became involved in the Surrealist movement and also made documentary films. He turned to photography in the early 1930s, and before long, his first solo exhibition was held at the Galerie Julien Levy in New York, in 1933. In 1947, the Museum of Modern Art in New York mounted a major retrospective of his works, and in 1955 he became the first photographer to have an exhibition at the Louvre in Paris.

From the 1930s onward, travel played an important part in Henri Cartier-Bresson's photographic career. In 1946 he travelled to New Orleans with the author Truman Capote, and in 1947 he and the poet John Malcolm Brinnin journeyed for three months through the USA. The "America" photographs shown in the present exhibition were taken between the 1930s and the 1960s; a special focus has been placed on those dating from Cartier-Bresson's years of intensive travel
in 1946 and 1947.

At the end of 1947, shortly after India's independence was declared, Henri Cartier-Bresson travelled to Bombay, as it was then called. In January 1948 he photographed Mahatma Gandhi, only a few hours before Gandhi was assassinated. Henri Cartier-Bresson's photographs from India bear vivid testimony to his intense interest in that country and its people. Between 1947 and 1987 he took six extended trips to India, which are documented in this exhibition.

In 1954, the year following Stalin's death, Cartier-Bresson became the first foreign photographer to enter the Soviet Union. By juxtaposing photographs taken in that year with those taken during Cartier-Bresson's trip to the Soviet Union in 1972, the exhibition presents the photographer's very personal observations of developments in a country which at that time was highly inaccessible. These photos, in combination with those from the United States of America, offer a subtle comparison of everyday life in the two superpowers during the Cold War.

In his photographs, Henri Cartier-Bresson combines formal discipline and a sense of geometry with surrealistically inspired intuition to create unique images captured at the "decisive moment" - the moment in which photography becomes "the simultaneous recognition, in a fraction of a second, of the significance of an event as well as the precise organization of forms which gives that event its proper expression."

The exhibition is being presented in cooperation with Magnum Photos and the Fondation Henri-Cartier-Bresson and will open during VIENNA ART WEEK 2011.