Back from Munich
01 Apr - 26 Jun 2011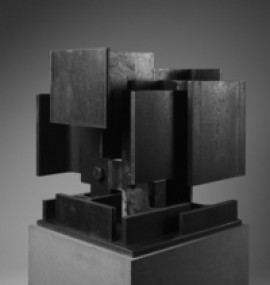 James Licini (*1937)
«Stahlbau 6/95. HEA 450/95», 1995
Stahl, geschweisst und geschraubt
62,1 × 56,5 × 58,3 cm
Kunstmuseum Bern
BACK FROM MUNICH:
Highlights of the Collection from Seven Centuries of Swiss Art
1 April 2011 - 26 June 2011

The Kunsthalle der Hypo-Kulturstiftung presented 150 artworks from the Kunstmuseum Bern collection titled ... Giacometti, Hodler, Klee ... Hosting the Kunstmuseum Bern in Munich from mid-September 2010 to January 2011. This exhibition will be open to the public also in the Kunstmuseum Bern under the title of Back from Munich from April 1 to June 26, 2011.

Apart from very few changes, we will be presenting the same works selected for the show in Munich, comprising paintings, works on paper, sculptures, and installations. They are all creations by Swiss artists.

The organization and conception of the exhibition was a collaborative project of the Kunstmuseum Bern and the Kunsthalle der Hypo-Kulturstiftung in Munich. Munich's outside view of the collection enhances the Kunstmuseum's knowledge of its own collection, creating a multifaceted tour of Swiss art revealing its great scope.

The exhibition begins with altar panels dating from the 15th century when the Swiss Confederacy was established as independent from the Holy Roman Empire. Portraits from the 16th to the 18th centuries reveal Protestantism's impact on pictorial art in the alpine republic. Majestic mountain panoramas reflect the idea of a nation state in the way it was idealized by Friedrich Schiller in Wilhelm Tell (1804). The exhibition illustrates a development that is increasingly gaining relevance beyond the canton's borders: works by individual artists – ranging from Albert Anker via Karl Stauffer-Bern to Ferdinand Hodler – are elevated onto the international stage to join
Alberto Giacometti, Paul Klee, Meret Oppenheim, and Jean Tinguely. Artists such as Franz Gertsch and Pippilotti Rist set new trends in contemporary art.

The collection presentation Back from Munich, however, is not restricted to only showing familiar highlights, such as Hodler's large-format figure paintings or Félix Vallotton's Abduction of Eu-ropa/Entführung der Europa. It additionally features exhibit rarities, brought to light from our de-pot, such as Joseph Werner's miniatures or James Licini's steel sculptures.