Color and I. Augusto Giacometti
19 Sep 2014 - 08 Feb 2015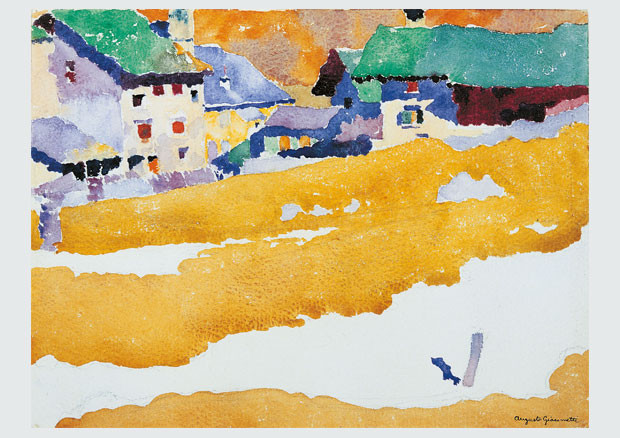 Augusto Giacometti
Stampa, 1915
Aquarell auf Papier
27,8 x 37,1 cm
© Bündner Kunstmuseum Chur © Erbengemeinschaft Nachlass Augusto Giacometti
COLOR AND I. AUGUSTO GIACOMETTI
A Swiss pioneer of abstraction
19 September 2014 – 8 February 2015

The comprehensive exhibition concentrates on Augusto Giacometti as a great master of color. In a radio lecture in 1933 he systematically described his thorough investigation of color phenomena. The title of his talk was "Die Farbe und ich" ("Color and I") is both the motto and leitmotif of the exhibition. The show traces the very original path trod by this important Swiss artist, and in addition draws a comparison to individual works by other artists whose work centered on color: Paul Cézanne, Adolf Hölzel, Johannes Itten, Paul Klee, Josef Albers, Ernst Wilhelm Nay, Richard Paul Lohse, Jerry Zeniuk or Raimer Jochims.

Augusto Giacometti belongs to the famous Giacometti family dynasty of painters from Stampa, a village in Val Bregaglia. The house of Augusto Giacometti's parents is situated only a short distance from the house and studio in which his second cousin Giovanni Giacometti lived, his senior by nine-years and the father of Alberto Giacometti. After training to become a drawing teacher at the arts school in Zurich, Augusto Giacometti studied art in Paris from 1897 to 1901. From 1902 to 1915 he lived and worked in Florence. In 1915 he finally settled in Zurich.

Already his early work, which still pursued Jugendstil goals, displays Giacometti's unmistakable coloristic talent. He is a pioneer of abstract painting in his exhaustive study of the rules and characteristics of color. Giacometti made a major contribution to modernism with landscape pictures and portraits as well as with his "chromatic fantasies", which he executed in the period from 1910 to 1920. As an artist who was always receptive to innovation he cultivated a lively exchange with avant-garde movements and artists' groups of the time. In Italy he was in touch with the futurists and, in Zurich, with the Dadaists.

The exhibition will, however, also focus on his later work, on the magnificently colored still-lives of flowers, on bright and cheerful landscapes and light-filled city views. The things he depicts in his paintings are rendered in mystically intoxicating colors, radiant in exotic tints against a largely dark background. And, not least, the artist's glass paintings with their purity of light and color will be on view.