Cuno Amiet
19 Aug 2011 - 11 Mar 2012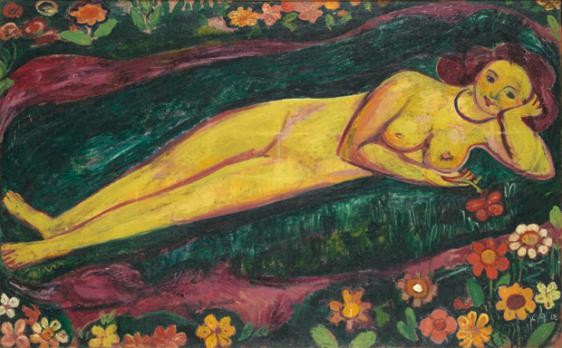 Cuno Amiet
Liegender Frauenakt mit Blumen, 1912
Öl auf Leinwand
100 x 161 cm
Sammlung Eduard Gerber, im Besitz von Kunstmuseum Bern
CUNO AMIET
"Joy of my Life", Eduard Gerber Collection
19 August, 2011 - 11 March, 2012

Cuno Amiet died on July 6, 1961, aged 93 on the Oschwand in the canton of Bern after having lived an eventful life. To commemorate the 50th anniversary of this versatile artist the Kunstmuseum Bern will provide insights into one of the leading collections of Amiet's work, that is, into Eduard Gerber's private collection. Besides showing the private collection of this connoisseur, the exhibition comprises works from the Kunstmuseum Bern collection as well. The latter represents the artist's "official" oeuvre, so that, on the whole, the exhibition offers a broad overview of Amiet's work.

Eduard Gerber's private collection comprises over a hundred of the Bernese artist's works. The collection began with a touching story of how, as a young man, Eduard Gerber became acquainted with the already renowned artist Cuno Amiet in the 1930s. Not only a close and long-enduring friendship arose between Eduard Gerber and the Amiet family, but also one of the most fascinating and significant collections of Amiet's work was established.

The remarkable qualities of the collection owe much to this friendship, which, in the end, makes the exhibition in the Kunstmuseum Bern so unique. The artworks had a very special status at the time for both the collector and the artist. Eduard Gerber pursued his passion for collecting over a very long period of time. Therefore the collection holds oil paintings, watercolors, drawings, and prints from Amiet's entire artistic career – from its beginnings to the last creative phase preceding his death. Thus not only special insights into the life's work of the artist await the public but also an impression of the exceptional friendship between two men, the prerequisite for the formation of this inspiring collection.

In Solothurn, where the artist was born, the Kunstmuseum Solothurn will be presenting a comparative exhibition of works by Cuno Amiet and Ferdinand Hodler (September 24, 2011, to January 2, 2012).