Germaine Richier
29 Nov 2013 - 06 Apr 2014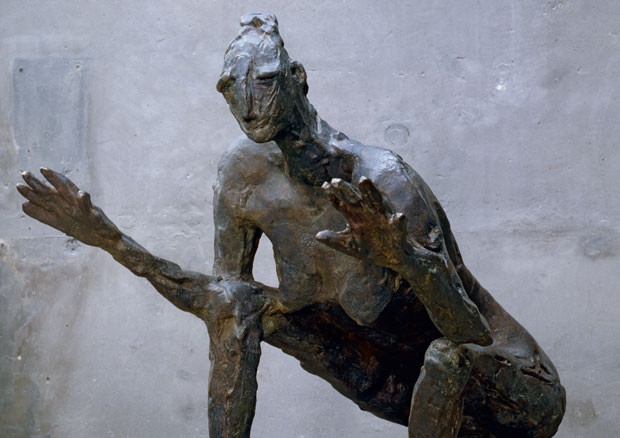 Germaine Richier
La Sauterelle / Die Heuschrecke, 1955-56
Bronze
138,5 x 96 x 170 cm
Kunstmuseum Bern
© 2013 phot. François Guiter, coll. Guiter © Germaine Richier, ADAGP, Paris 2013-2014 © 2013, ProLitteris, Züric
GERMAINE RICHIER
Retrospective
Exceptional artist in the development of sculpture
29 November 2013 - 6 April 2014

No major exhibition on the developments of 20th-century sculpture fails to feature Germaine Richier (1902-1959). All in all, she is indeed a highly exceptional artist. Her entire oeuvre is oriented toward humankind and finding appropriate semblances that express humanity. As Germaine Richier once said about her art: "humanity alone counts."

Germaine Richier is heiress to the figurative tradition in sculpture, which she studied intensively as a private pupil of Émile-Antoine Bourdelle in Paris. She pursued, however, a very independent and extremely diversified artistic path, making it difficult still today to classify her work as belonging to a specific style or movement. Her art is associated with the tenets of existentialist philosophy just like Alberto Giacometti's art, who studied together with her at Bourdelle's studio. Indeed, on closer scrutiny, the existential nature of her artworks is apparent in the torn and fissured figures, whose blatant insecurity is inscribed with a wired tension into their very beings. However, Richier's engagement with the human image additionally pursued very different paths. The way she brings humankind on par with animals in hybrid creatures reveals a strong identification with nature. This she merged with the myths and stories of the Provence region where she had grown up, infusing her work with a strongly organic quality. Human beings are an integral part of creation and do not stand aloof and apart from other creatures. Germaine Richier found recognition early in her career as an artist and she is one of the first women sculptors to find international success.

Her affiliations to Switzerland remained close. At Bourdelle's studio she met her first husband Otto Charles Bänninger from Zurich. When World War II broke out in 1939 she stayed with Bänninger in Zurich, where she again ran into Alberto Giacometti, Marino Marini, Hans Arp, Le Corbusier and Fritz Wotruba. Together with this group of artists she participated in many exhibitions, and among them there was an intensive exchange of ideas. After returning to Paris in 1946 she was long a frequent commuter between the French capital and Zurich. And furthermore, she had many Swiss students. As early as 1945, the Kunsthalle Bern exhibited her work alongside that of Marino Marini and Fritz Wotruba. And it devoted a solo exhibition to Germaine Richier a year prior to her decease in 1958, showing her newest sculptures.

55 years later the Kunstmuseum Bern is mounting the first retrospective in Switzerland. The exhibition is presenting some 60 sculptures that have been arranged thematically, providing an overview of Richier's entire oeuvre. Additionally the exhibition will integrate "guests" from the collections of the Kunstmuseum Bern and the Kunsthalle Mannheim (the second stop of the show) to reveal the wide horizon of issues that Richier addressed in her extensive oeuvre.