Giovanni Giacometti
30 Oct 2009 - 21 Feb 2010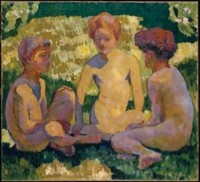 Giovanni Giacometti
Fanciulli al sole, 1910
Öl auf Leinwand
91.3 x 100 cm
Depositum der Gottfried Keller-Stiftung / Kunstmuseum Bern, Schenkung Stiftung Gemäldesammlung Emil Bretschger
GIOVANNI GIACOMETTI
"Colour in the Light"

30 October 2009 - 21 February 2010
Opening: Thursday, octobre 29, 2009, 18h30

This exhibition devoted to Giovanni Giacometti (1868-1933) is being organised by the Kunstmuseum Bern in collaboration with the Bündner Kunstmuseum Chur. After Amiet ("Cuno Amiet - von Pont Aven bis Brücke", 2000), Anker ("Albert Anker und Paris", 2003), Felix Vallotton ("Sonnenuntergänge", 2004/04) and Ferdinand Hodler ("Eine symbolistische Vision", 2008), this exhibition will continue the Kunstmuseum Bern's series devoted to great Swiss artists.

There is no doubt that Giovanni Giacometti - like Amiet - is one of the leading Swiss artists who, between Impressionism, Post-impressionism and Fauvism, absorbed and further developed the essential new aspects of modernism. His outstanding work radiates a great coloristic force that was to characterize the artist up to the time of the mountain and landscape panoramas bathed in a dazzling light which he painted in Bergell and Maloja, where he had his summer studio. Giacometti strove to reproduce changing light conditions and to intensify the impact of light and colour, achieving this by juxtaposing brush strokes or dots in unmixed, often complementary colours.
Approximately one hundred paintings by Giovanni Giacometti will focus attention on his ingeniously vibrant orchestration of light. The exhibition will be complemented by several works by contemporaries like Amiet and Segantini, the intention being to show that in the context of his neo-impressionist colleagues and in the circle of Expressionists, Giacometti has an equivalent place.
The exhibition will demonstrate that when it comes to the development of modern painting Giovanni Giacometti is a remarkable personality of international standing.

Curators: Therese Bhattacharya-Stettler (Kunstmuseum Bern), Beat Stutzer (Bündner Kunstmuseum Chur)

Further venues: Bündner Kunstmuseum, Chur: 19 March - May 2010.

An illustrated catalogue is planned to accompany the exhibition (designated authors include Matthias Frehner, Therese Bhattacharya-Stettler, Beat Stutzer, Viola Radlach).

Both the exhibition and the catalogue are generously supported by the Credit Suisse.