Iron and Steel
16 Aug - 10 Nov 2013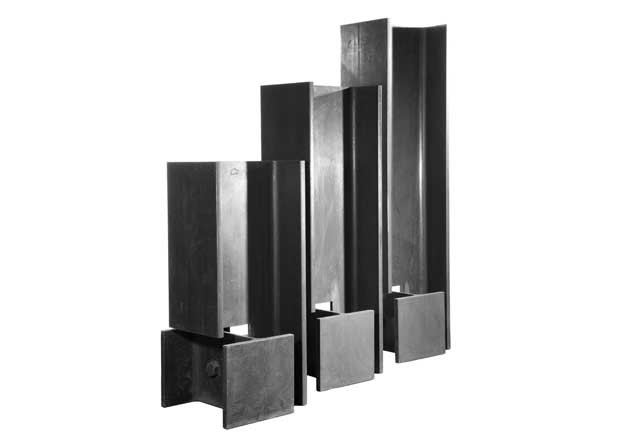 James Licini
Stahlbau HE 40B, 1998
120 x 40 x 40 cm.
© James Licini, Nürensdorf. Foto: Giorgio von Arb.
Famous Swiss sculptors working in iron and steel
IRON AND STEEL. PAOLO BELLINI, JAMES LICINI, JOSEF MARIA ODERMATT
16 August - 10 November 2013

«Iron and Steel» presents recently executed work series by Paolo Bellini, James Licini, and Josef Maria Odermatt, who are among the leading representatives of today's art scene specializing in iron and steel sculptures in Switzerland.

Swiss sculptors working with iron and metals made a key contribution to international postwar sculpture with names such as Max Bill and Bernhard Luginbühl or Oscar Wiggli and Jean Tinguely. Due to the specific qualities of the materials they used and the specialized methods needed to work with it like forging and welding, they developed fundamentally new forms of expression in three-dimensional composition. The next generation—with Paolo Bellini, James Licini, and Josef Maria Odermatt among the leading representatives in the field in Switzerland—took up working with iron and steel to find creative responses in sculpture to the avant-garde approaches of the 1960s and 1970s, such as arte povera and minimal art.

Subsequent to the solo exhibitions of Bernhard Luginbühl (2003) and Oscar Wiggli (2007), the show Iron and Steel comprises a comprehensive view of recent work in the careers of the three solitary artists. Bellini constructs assemblages that expansively penetrate space, using the trash of technology to imitate, with crude gestures, the motions of the human body. Licini sees himself as a "builder in steel". His approach is rather the opposite to that of Bellini's winding dynamism. He uses industrial steel girders and not sheet metal. In his current work a strong interest in Aztec art has led to a minimalist and serial synthesis of architectural and serial concepts. Before he died, Odermatt created an impressive series of forged floor sculptures by conflating the axioms of minimal art with the archaism of the Swiss alpine world.

For the very first time, works by the three artists will be shown together in an exhibition at the Kunstmuseum Bern.