Max Gubler
13 Mar - 02 Aug 2015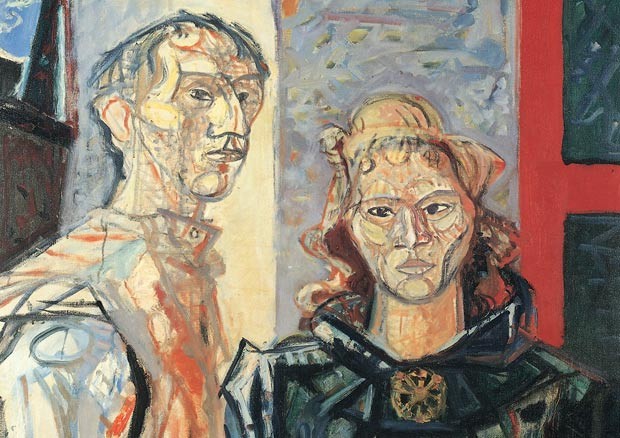 Max Gubler
Doppelbildnis mit Katze, um 1952
Öl auf Leinwand
162 x 130 cm
Museum zu Allerheiligen, Schaffhausen.
© Eduard, Ernst und Max Gubler-Stiftung, Zürich
MAX GUBLER
A Life's Work
13 March - 2 August 2015

Max Gubler (1898 – 1973) was seen as the «only genius of Swiss painting» right into the 1960s. And he represented Switzerland at the 1952 Venice Biennial. However, after he was committed to a psychiatric hospital in 1958, his expressive realism became somewhat forgotten. The exhibition is presenting the first real retrospective of Max Gubler's life's work. It was only recently that we have been able to access the art he produced during the last four years of his life, which had hitherto been under lock and key.

The idea for a comprehensive overview of his oeuvre came in response to the bequest of Ruth and Hans-Rudolf Kull becoming part of the Kunstmuseum Bern Collection in 2010. The couple accrued one of the leading collections of Max Gubler's art. The focus of the show is on his painting, palpably illustrating his artistic development over six museum rooms, each with its own thematic highlight. One room is devoted to his wife, Maria, whom he painted over 260 times. Other than this, thematically the exhibition addresses the artist's neo-objective early work, figural compositions, landscapes, self-portraits, still lifes, and the paintings of his studio. Especially Gubler's works in series strike us as remarkable. When he took up a motif he would execute up to twelve variations thereof.

To the very end, Max Gubler's art was viewed as being linked closely to his medical and psychological history. What was considered strange, enigmatic or extraordinary in his work was interpreted as a sign of his psychological instability. But painting in the 20th century is always a confrontation with the crises of the age we live in too. Hence the exhibition, with more than 100 paintings from all the phases of Gubler's career, hones in on the artistic development of his oeuvre. It sees its role in rediscovering anew the brilliant oeuvre of a modernist artist.

A catalogue with a wealth of color plates will be published by Verlag Scheidegger & Spiess in conjunction with the exhibition, containing research contributions by Matthias Frehner, Daniel Spanke, Beat Stutzer, Hannah Rocchi, Bettina Brand-Claussen, and Peter C. Claussen.