New Additions to The Collection: August Gaul And Martin Lauterburg
22 Aug 2014 - 11 Jan 2015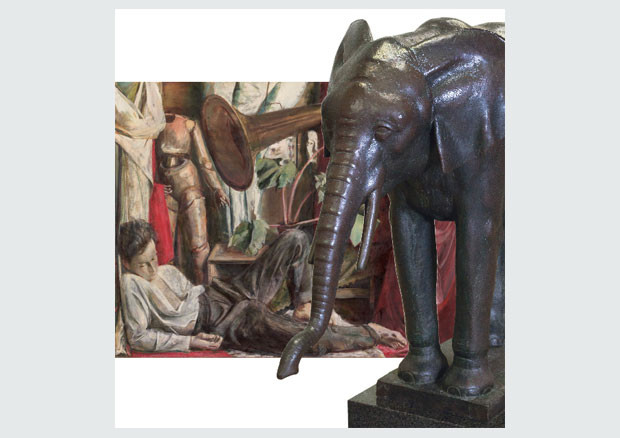 August Gaul
Stehender junger Elefant, 1916 –1917
Bronze; Sockel: Granit
123 x 150 x 58,5 cm
Kunstmuseum Bern, Leihgabe der Zwillenberg-Stiftung/
Martin Lauterburg
Der Maler, 1928
Öl auf Leinwand
137 x 170 cm.
Kunstmuseum Bern
NEW ADDITIONS TO THE COLLECTION: AUGUST GAUL AND MARTIN LAUTERBURG
presentation of the Collection
22 August 2014 – 11 January 2015

In summer 2013, the Kunstmuseum Bern had the honor of receiving a large number of sculptures as a permanent loan from the Zwillenberg Foundation. The artworks are largely smaller sculptures, but include some large pieces such as a young elephant executed by August Gaul (1869–1921).
The exhibition is offering insights into the creations of the Bernese painter Martin Lauterburg (1891-1960). It is being mounted on the occasion of the transferal of the Martin Lauterburg Foundation, which was founded in 1973, to the Kunstmuseum Bern Foundation.

The Zwillenberg-Tietz family accrued the collection from 1900 onwards in Berlin. Born in Hesse, August Gaul worked as an artist in Berlin during the Gründerzeit, an ecclectic style in Germany during the latter part of the 19th century. He made practically only sculptures of animals. His participation in the Paris Exposition Universelle brought him considerable fame among private collectors and museums. This was enhanced through sales of his work by gallery owners Bruno and Paul Cassirer. Gaul was also a founding member of the Berlin Secession. His artistic repertoire ranged from realistic representations of animals native to Europe, such as sheep, goats and geese, to exotic beasts such as lions, elephants and penguins. He was able to study the behavior and appearance of the latter at the Berlin zoo, Zoologischer Garten.

The Martin Lauterburg exhibition presents a selection of works from the holdings of the Martin Lauterburg Foundation as well as from Kunstmuseum Bern's collection. The artworks include symbolic scenes of the artist's studio, flower still-lifes and portraits. During his lifetime Lauterburg was a highly valued artist both in Switzerland and in Germany. Today, however, he is on the verge of being forgotten, despite a highly unconventional style that reveals both expressionist qualities and qualities reminiscent of the old masters. Famous as the "geranium painter", Lauterburg executed flower still-lifes alongside portraits (et al. of Ricarda Huch), cityscapes and religious artworks. Additionally he produced a whole series of artist's studio pictures in which he portrayed himself in the midst of mysteriously animated props. Martin Lauterburg was born on May 14, 1891, in Neuenegg and spent his childhood in an orphanage in Bern after his father died early. He attended the Freie Gymnasium (free grammar school) and received his first training as an artist from the landscape painter Ernst Linck. In 1910, Lauterburg traveled to Munich where he went to arts school and became a member of the New Secession artists' association. In 1935 he returned to Bern and lived there until he died on June 9, 1960, in Länggass-Quartier.