Open Sesame!
07 Mar - 24 Aug 2014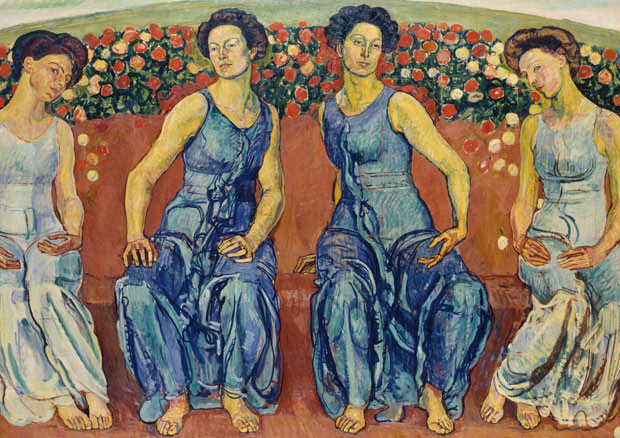 Ferdinand Hodler
Heilige Stunde, 1911
Öl auf Leinwand
187 x 230 cm
Stiftung für Kunst, Kultur und Geschichte, Winterthur
Insights into a tremendous treasure vault
OPEN SESAME! ANKER, HODLER, SEGANTINI... MASTERPIECES FROM THE FOUNDATION FOR ART, CULTURE AND HISTORY
7 March - 24 August 2014

Winterthur patron of the arts Bruno Stefanini (*1924) established the Stiftung für Kunst, Kultur und Geschichte (Foundation for Art, Culture and History) in 1980. In the 1950s he began purchasing small-format pictures by Robert Zünd. Over the decades Stefanini accumulated an impressive collection of some 5,000 artworks that offers an encyclopaedic overview of the whole spectrum of artistic creation in Switzerland from the 18th to the early 20th century.

We will be presenting over 140 works by Swiss artists from the collection – some of them for the very first time – with paintings by Johann Heinrich Füssli and Arnold Böcklin, Angelika Kauffmann, Alexandre Calame and Rudolf Koller, Giovanni and Augusto Giacometti, as well as Giovanni Segantini, Cuno Amiet and Félix Vallotton. Further highlights include works by Albert Anker, such as his magical Mädchen, die Haare flechtend (Girl Platting Her Hair), Ferdinand Hodler's highly complex Heilige Stunde (Sacred Hour), as well as General Sherman's Party by globetrotter Frank Buchser, through to New Objectivity featuring works by Adolf Dietrich and Niklaus Stoecklin.

The exhibition and catalogue are arranged thematically so that landscapes, pictures of children, history paintings, portraits, still lives etc. are presented in individual sections. Bringing together both the renowned and the unfamiliar, the show takes us on a breathtaking and exciting tour of Swiss art history packed full of surprises. The largest-ever group of rock crystals found in the Alps and Empress Elizabeth of Austria's riding outfit are representative for the outstanding objects from other areas of the collection

Under the moniker of Stiftung für Kunst, Kultur und Geschichte the foundation has granted loans of individual pieces to exhibitions until the present. Now for the first time insights into the entirety of this tremendous treasure vault are made possible by our show. A catalogue will accompany the exhibition, which, subsequent to Bern, will also be showing at the Fondation Pierre Gianadda in Martigny. The catalogue (in German and French) is richly illustrated, divided into different sections each with a specific thematic focus, and contains essays by Therese Bhattacharya-Stettler, Gian Casper Bott, Matthias Frehner, Yvonne Fritz, Caroline Kesser, Valentina Locatelli, Isabelle Messerli, Daniel Spanke and Peter Wegmann (312 pages, 183 images, CHF 49.00).