Ricco Wassmer
27 Nov 2015 - 13 Mar 2016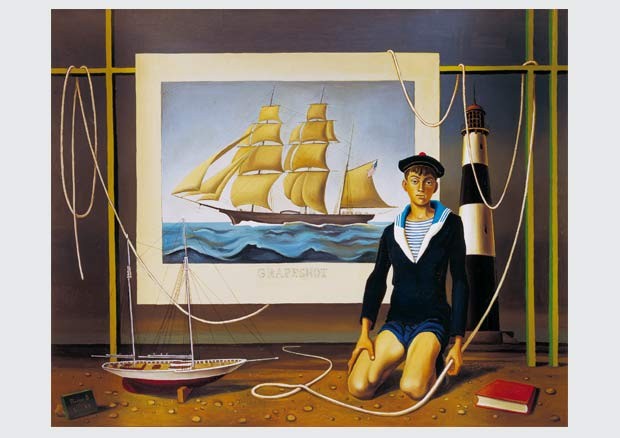 Ricco Wassmer
Grapeshot, 1964
Öl auf Leinwand / huile sur toile
65 x 81 cm, Privatbesitz, Schweiz / collection privée, Suisse
© Ruedi A. Wassmer, Zürich
RICCO WASSMER
1915-1972. His Centenary Birthday
27 November 2015 – 13 March 2016

On the occasion of Ricco Wassmer's centenary birthday (whose real name was Erich Hans Wassmer, 1915–1972), the Kunstmuseum Bern is mounting a comprehensive retrospective for this Swiss painter. The arrangements in his paintings are surreal in appearance; by conflating naive painting, new objectivity, and magic realism he produced a highly unique oeuvre. The themes that were important to the artist were loss of the blissfulness of childhood, slender youths, subject matter involving sailors, sailing ships, still lifes, homages, and the yearning for distant lands.

Wassmer grew up as the son of an industrialist and spent his youth at Bremgarten Palace among circles of people interested in art. After studying in Munich and Paris, he returned to Switzerland in 1939. In 1948/49 he spent a several months in Tahiti and then twice sailed around the world as a ship's cook on a freighter. From 1950, he lived part of the time in central France near Vichy, but his bonds to the art scene in Bern, in connection with the Kunsthalle director Arnold Rüdlinger, remained strong. In 1963 he moved to Ropraz near Lausanne, and in 1972 he died at the age of 57 from the aftereffects of a lung disease that he had suffered from for many years.

With over 200 loans, especially from private collectors, the show will be providing a broad overview of Ricco's art. Many of the artworks were never shown in public prior to this exhibition, and among them are a few pieces that have only recently been discovered. A large selection of photographs will be on show. This is because the camera not only began to replace sketching directly from models, but also grew more and more important in its own right from the 1950s onwards. In addition, we will be exhibiting objects that belonged to the passionate collector and were utilized as a source of imagery in his art.

The show will follow a chronological order based on the catalogue raisonné of the artist's paintings and objects. Betty Stocker began the catalogue and Marc-Joachim Wasmer took over from 2008 (Catalogue raisonné der Gemälde und Objekte). A richly illustrated, two-volume catalogue with a biography and a critical catalogue of works will be published in conjunction with the exhibition; it will also be available on the Internet.

After a cabinet exhibition in 2002, which was realized in conjunction Mike Wildbolz's documentary film, this will be the second posthumous presentation in Bern of Ricco's work. The basis for the works on exhibition stems not only from the legacy of the collector Emanuel Martin, which was divided up among the Kunstmuseum Bern and the Aargauer Kunsthaus. It also takes recourse to permanent loans and the photographic legacy of the artist.