The Mystery of the Body
21 Oct 2011 - 12 Feb 2012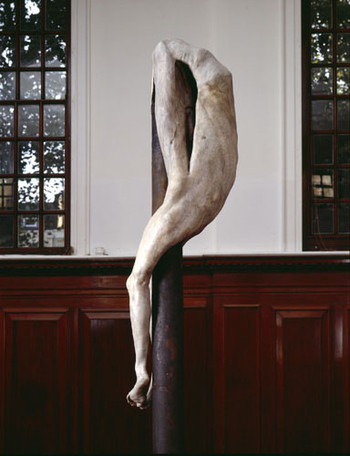 Berlinde de Bruyckere
Schmerzensmann VI, 2009
Fotografie Mike Bruce
Courtesy of the Artist und Galerie Hauser & Wirth
THE MYSTERY OF THE BODY
Berlinde De Bruyckere in Dialogue with Lucas Cranach and Pier Paolo Pasonli
21 October, 2011 - 12 February, 2012

Berlinde De Bruyckere's works are the focal point of this exhibition. The Flemish artist was born in Gent in 1964. She developed the concept for the exhibition together with the Kunstmuseum. The result is a dialogue – overarching epochs and media – of her works with selected paintings by Lucas Cranach and sequences out of Pier Paolo Pasolini's films.


Adopting a realism involving corporeal transformation, De Bruyckere's figurative representation dis-covers extremely novel forms and emotionally deeply moving figures.

Especially De Bruyckere's works in recent years – engaged with Man-of-Sorrows or Pietá subject matter – are inspired by Lucas Cranach as well as by the intensity and beauty of his painted figures. Within the context of Martin Luther's theology, Cranach reflects on the image of man who lived "in the flesh" and in the image of the Man of Sorrows. His wounds evidence God's love for humankind, and the incarnation of Christ his grace. De Bruyckere's sculptures transform these religious motifs. They underscore the erotic and extremely cultivated sensual expression of Cranach's figural portrayals – even under the greatest suffering – in a compressed manner that transcends realism. In the face of possibilities that have opened up in our age due to science's ability to generate nature, De Bruyckere's works prompt viewers to meditate on ethical questions. The sculptures appear provokingly political in their emotional and aesthetic distance to mass media's voyeurism, to the mechanisms of advertising images, and in consideration of mass exterminations.

In addition to the above-described aspect of De Bruyckere's work, a selection of films by Pier Paolo Pasolini will partake in an artistic discourse on the archaic dimension of body language and the body as an object for the projection of power and consumerist interests.

This exhibition is the first monographic show of Berlinde De Bruyckere's work in a Swiss museum. It comprises works that the artist created especially for the occasion.

The exhibition will be organized collaboratively with Dr. Cornelia Wieg, Stiftung Moritzburg Halle – Kunstmuseum des Landes Sachsen-Anhalt.