Michel Majerus
15 Mar - 20 May 2012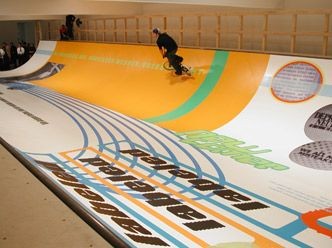 Michel Majerus
if we are dead, so it is, 2000
300 x 992 x 4200 cm
photo: Hartmut Nägele
© michel majerus estate, 2000, courtesy neugerriemschneider, Berlin
MICHEL MAJERUS
If we are dead, so it is
16 March - 20 May 2012

As a highlight of the current special exhibition of works by Michel Majerus the Kunstmuseum Stuttgart, together with the michel majerus estate, is realizing the temporary large-scale sculpture »if we are dead, so it is« on the Schlossplatz. The work — a forty-two-meter long, ten-meter wide skateboard ramp — can be seen and experienced in the direct vicinity of the museum for nine weeks. The work of art has been realized only twice before: in 2000 at the Kölnische Kunstverein in Cologne and in 2004 on the occasion of the Biennale for Contemporary Art in Seville in the courtyard of a monastery. In Stuttgart the usable sculpture will be presented in a public space for the first time. For Majerus himself it was important to address people also outside the museum. The skateboard ramp he designed is an impressive example of how he expanded the medium of painting. On the U-shaped, painted, and pasted surface of the ramp the artist combined quotes from art history, science, and the realms of media and advertising. For viewers gliding over it at a frantic speed the three-dimensional picture surface can be read as a commentary on a world that fuses into a colorful sea of symbols.