Modes of Behavior towards People When Affection Plays a Part
15 Jul - 05 Nov 2017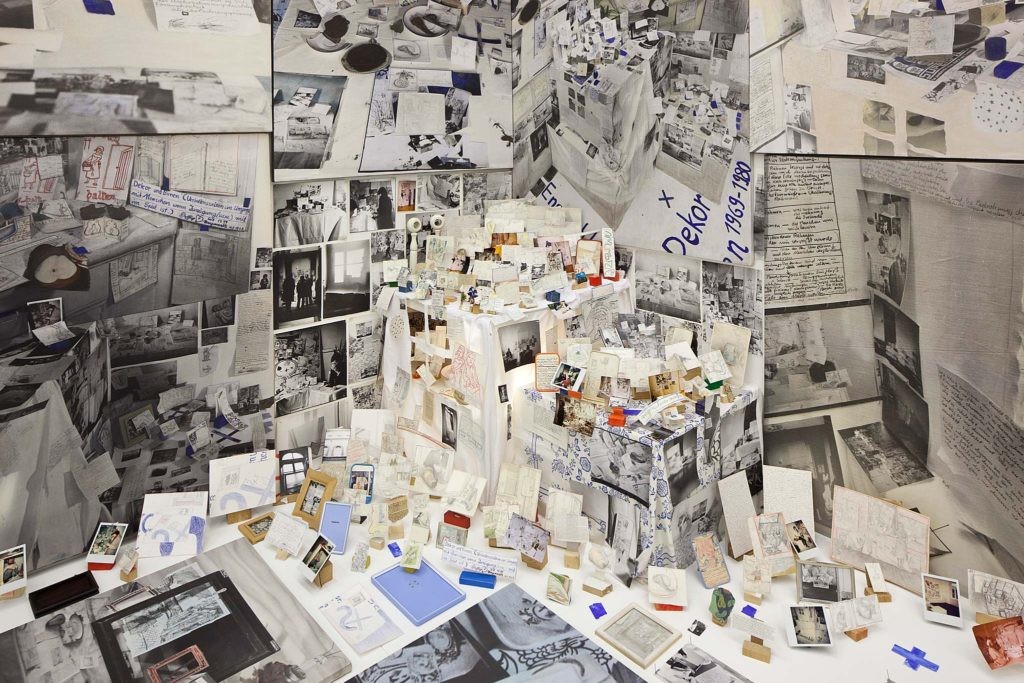 Anna Oppermann
Ensemble mit Dekor (Über den Umgang mit Menschen, wenn Zuneigung im Spiel ist) – Dekor mit Birken, Birnen und Rahmen, 1969-1984-1992 (Detail)
Photo: Werner J. Hannappel, Essen
© Temporäre Kunsthalle Berlin, 2010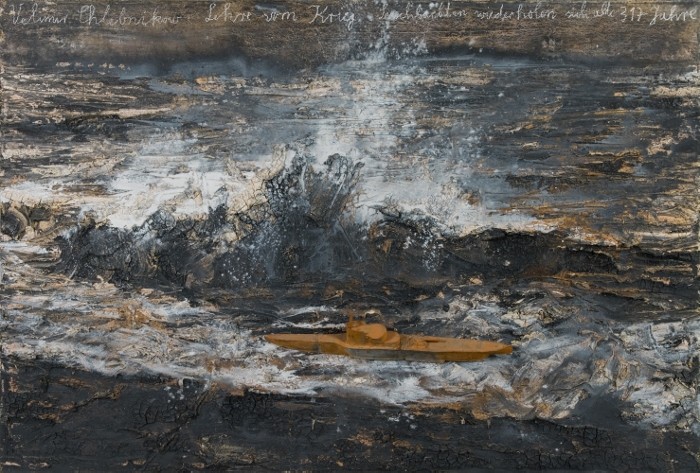 Anselm Kiefer, Velimir Chlebnikov
Lehre vom Krieg, Seeschlachten wiederholen sich alle 317 Jahre, 2005
© Anselm Kiefer
Photo: Uwe H. Seyl, Stuttgart
MODES OF BEHAVIOR TOWARDS PEOPLE WHEN AFFECTION PLAYS A PART
Klein Collection
15 July – 5 November 2017

Alison and Peter W. Klein have been collecting art for nearly thirty years. Continually expanded since the end of the 1980s, their highly diverse collection is an impressive testament to an emotional desire to view and experience art. Their most recent acquisition is Anna Oppermann's piece »Ensemble with Decoration (Modes of Behavior towards People When Affection Plays a Part) – Decoration with Birches, Pears, and Frame« (1969-1984-1992). With its puzzling poetry, the almost playfully added parenthetical clause characterizes Oppermann's work overall. Hence it spontaneously became the overarching concept for the entire exhibition, also because the aspect of an affection for art and people appears symptomatic of the Kleins' (artistic) enterprise.

From July 15 to November 5, 2017, the Kunstmuseum Stuttgart is featuring portions of the extensive Klein Collection in a large special exhibition. Ulrike Groos and Klaus Gerrit Friese have selected twenty-nine artists out of the abundance of the nearly nine hundred represented in the collection, who exemplify in particular the Kleins' collecting interests. After all, in addition to such famous artists as Sean Scully and Anselm Kiefer, the Klein's continually turn their attention to not-yet-established as well as young positions.

Artists of the special exhibition: Louise Bourgeois, Gregory Crewdson, Gotthard Graubner, Florian Heinke, Gottfried Helnwein, Katharina Hinsberg, Candida Höfer, Franziska Holstein, Annette Kelm, Anselm Kiefer, Jürgen Klauke, Karin Kneffel, Rosemary Laing, Nanne Meyer, Tracey Moffatt, Ann-Kathrin Müller, Thomas Müller, Shirin Neshat, Markus Oehlen, Anna Oppermann, Ulrike Rosenbach, David Schnell, Sean Scully, Chiharu Shiota, Jorinde Voigt, Corinne Wasmuht, Michael Wutz und Kōhei Yoshiyuki

Made possible by the collectors Klein, admission is free of charge on Fridays from 6 pm to 9 pm, and the entire day on Saturdays and Sundays. In addition, free german tours are being offered on Fridays at 6 pm, on Saturdays at 4 pm, as well as on Sundays at 3 pm and 4 pm.