Rudolf and Bertha Frank Collection
16 Jun - 06 Oct 2012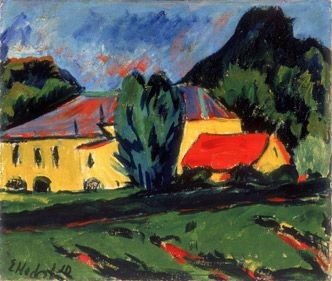 Erich Heckel
Aus Moritzburg, 1910
Rudolf and Bertha Frank Collection at the Kunstmuseum Stuttgart, photo: Uwe H. Seyl, © Nachlass Erich Heckel, Hemmenhofen
RUDOLF AND BERTHA FRANK COLLECTION
16 June - 7 October 2012

The Mannheim couple Rudolf and Bertha Frank began collecting works of classical modernism following World War I. Today their collection comprises fourty-two paintings, sculptures, and works on paper, including important Expressionist works by Erich Heckel, Emil Nolde, Karl Schmidt-Rottluff, Wilhelm Lehmbruck, Alexej von Jawlensky, and Otto Dix. Since 1992 the collection has been on permanent loan in the Kunstmuseum Stuttgart. To date two important works by Otto Dix could be acquired for the museum: in 1993 the »Bildnis Frau Martha Dix« as a gift from the former Landesgirokasse (State Girobank) and recently the 1922 portfolio »Zirkus« with ten etchings. The third installment from the series of exhibitions on private collectors which the Kunstmuseum Stuttgart started in 2011 clearly shows the significance of the Rudolf and Bertha Frank Collection in the area of classical modern art for the holdings of the museum.