Sound In Motion
05 Mar 2015 - 15 Jan 2017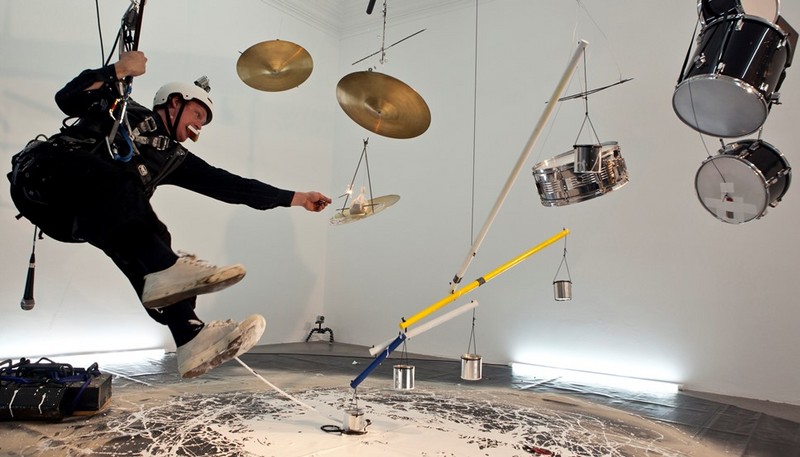 William Hunt
Sub-optimal Expression Output Interface, 2013
© William Hunt / Courtesy Petra Rinck Gallery, Düsseldorf / IBID projects, London, Los Angeles und Rotwand, Zürich
SOUND IN MOTION
International Video and Performance Art
5 March 2015 - 15 January 2017

In 2015, the Kunstmuseum Stuttgart is celebrating its ten-year anniversary by focusing on the theme of the linking of art and music. Ever since the rise of media art in the 1960s, more and more visual artists around the world have begun to work with film, television, and computers. Film and video works, in particular, display art that is meant to be seen and heard or they use pieces of music in visual contexts.

Films, videos, and installations in which image and sound (music) are of equal importance, complement one another, or in which music becomes the theme of the artist's visual narrative provide the focus of the series of exhibitions.
In this exhibition series, the linking of visual art and music focuses on the merging of visual and acoustic experiences and developing our perception of the transitions between and the interpenetration of art and music. In regularly rotating presentations, the museum will be showing until January 15, 2017 works by artists including Tatiana Blass, Candice Breitz, Filderbahnfreundemöhringen FFM, Kristof Georgen, Rodney Graham, William Hunt, Ragnar Kjartansson, Annika Kahrs, Christian Marclay, Hajnal Németh, Carsten Nicolai, and Ann-Sofi Sidén with Jonathan Bepler.

William Hunt
Light notes can be hard work
May 13 – June 21, 2015

William Hunt (born 1977 in London, lives in London and Düsseldorf) is known for his musical performances completed under physically arduous conditions. Hunt often references and subverts typical models associated with pop music by exaggerating and distorting gestures often executed by male popstars, thus creating his own specific performance style. Hunt's performing persona oscillates between heroism and fatuity and as a result highlights the differing reactions an audience can have to the figure on stage, namely adoration or aversion. The video works on display at the Kunstmuseum Stuttgart, »Rodeo / Radio« (2005), »The Impotence of Radicalism in the Face of all these Extreme Positions« (2007), »Even As You See Me Now« (2008) and »Sub-optimal Expression Output Interface« (2013), offer an insight into Hunt's diverse body of work. In addition to the museum presentation a performance by the artist will take place on the Kleiner Schlossplatz on May 29.