Thomas Zipp
02 Apr - 28 May 2011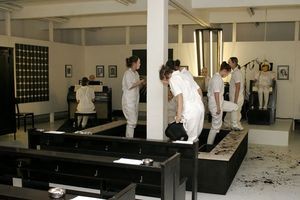 © Thomas Zipp
The World ́s most complete Congress of RITATIN Treatments, performance 2.4.2011, Kunstraum Innsbruck
THOMAS ZIPP
The World ́s most complete Congress of RITATIN Treatments
2 April - 28 May, 2011

In his latest big exhibition, Thomas Zipp transformed the Museum Fridericianum in Kassel, the oldest museum on the European continent and principal site of documenta, into a huge mental hospital, including sleeping quarters, dining and recreation areas, but also a padded cell (white cube!). Zipp's artistic projects are generally embedded in historical, sociological and psychological settings. Famous historical personalities, such as Martin Luther and Otto Hahn, are transposed in the process into a shadow and twilight world. After all, their religious and scientific visions also surpassed the traditional boundaries of consciousness.

The Kunstraum Innsbruck will be transformed by Zipp into a psychedelic and ecstatic room. Ecstasy, that can be activated through dance, music and drugs, is the engine of an age-old transcendental ritual that the artist himself has christened White Dada and characterised as being happy, daring, ethereal, electrically charged, dynamic, violent and interventionist. A setting using sculptures, drawings, portraits, Hammond organs and other objects − inside a sort of chapel, complete with benches and confessionals − waits to find its inner sound through music and performance. An important part is also played by oracles and divination. With his art, Thomas Zipp opens up reservoirs of the subconscious, whose elements combine to form a cryptically uncanny surreal presence.

The performance, i.e. the so-called Ritatin treatment, will be repeated on April 21, 2011, and May 19, 2011, at 6:30 p.m. respectively.

Thomas Zipp was born in Heppenheim in 1966. He studied art at the Städel School and since 2008 has been a lecturer at UdK Berlin. Important solo exhibitions took place at Kunsthalle Mannheim and Museum Fridericianum in Kassel. In 2006, he participated in the Berlin Biennale.