Tjorg Douglas Beer
23 Jan - 20 Mar 2010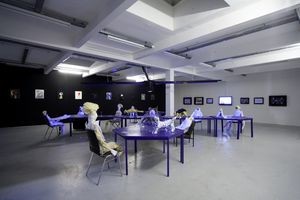 © Tjorg Douglas Beer
Diamonds & Bones + THE-NEW-WORLD.TV, installation view Kunstraum Innsbruck, 2010
TJORG DOUGLAS BEER
"Diamonds & Bones + The-New-World.TV"
23.01.2010 - 20.03.2010
opening : Friday, 22 January 2010, 19.00
Though wilfully renouncing any form of conceptual self-assertion and formal stringency of artistic means, certain topics may be made out regularly in Tjorg Douglas Beer's work (b. 1973, lives in Berlin). For instance, his imagery circles around global questions of war, politics, as well as social and power structures. He generates various scenarios out of elements that bear reference, among other things, to the absurdities of the world of the media. And he approaches these topics without becoming moralistic.
For the Kunstraum Innsbruck the artist now has developed two installations. The main room presents DIAMONDS & BONES, a scenario combining the illustrious company from the war room in Stanley Kubrick's Dr. Strangelove, the sad remains of an orgy held in an executive assembly room, and the laboratory of a diamond factory. A crossbone-cum-boardroom-cum-last-supper table holds the fragments of a failed society. A frozen mise-en-scene of life-size paper figures surrounded by the ruins of one of the last great orgies of a dying elite.
Beside the installation, the exhibition presents sculptures and new portraits. The templates for the latter were colour photocopies, etchings and heliogravures. They depict the sickly pale faces of mannequins that have have been pasted over and painted. Mutated subjects of an inexplicable experiment. The applications cut out of carton, meanwhile, provide us with fragmentary headlines or slogans.
The second installation is formed by THE-NEW-WORLD.TV. Housed in a room in the basement of the building, it is a sort of television studio from which the TV station THE-NEW-WORLD.TV, initiated by Beer, broadcasts its programme via online streaming. The TV station is both installation and broadcasting instrument. THE-NEW-WORLD.TV has been on air since 1st January 2010 with a test card from Studio I at the basement vault of THE FORGOTTEN BAR in Berlin Kreuzberg. Now the first actual programme is produced and broadcast in Innsbruck.
In addition to his own artistic work, Beer is one of the iniators of Galerie im Regierungsviertel, THE FORGOTTEN BAR, and The-New-World.TV.
The exhibition will be accompanied by an artist book published in cooperation with Galerie der Stadt Backnang.
DATES:
WWW.THE-NEW-WORLD.TV
will go online at 7 p.m., on 22 January 2010, and present the premiere of THE-NEW-WORLD.TV NEWS.
Saturday, 23/01/2010, 6.30 p.m.
FILM PROGRAMME: Tjorg Douglas Beer presents extracts from Dr. Strangelove, Grey Gardens and other films