Zu Gast (5): Satisfy Me
Works from Sammlung Wemhöner
03 Feb - 31 Mar 2018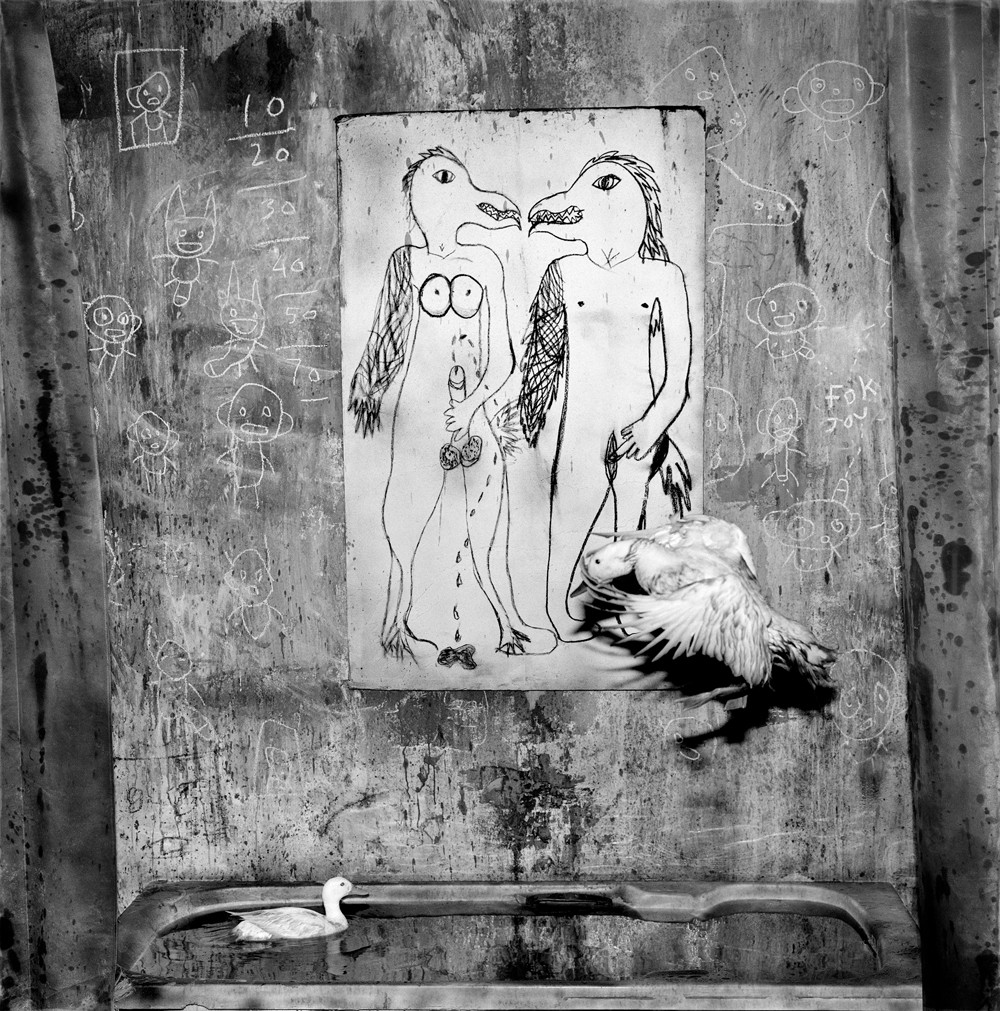 Roger Ballen, Rendezvous, 2012, Archival Pigment Print, 50 x 50 cm, Courtesy & Copyright: Studio Roger Ballen
ZU GAST (5): SATISFY ME
Works from Sammlung Wemhöner
3 February - 31 March 2018

Curated by Philipp Bollmann

Nevin Aladag, Kader Attia, Roger Ballen, Vanessa Beecroft, Monica Bonvicini, Birgit Brenner, Asta Gröting, Isaac Julien, Marc Lafia, Duane Michals, Andreas Mühe, Tim Noble & Sue Webster, Xu Qu, Yang Fudong

Imagine looking into a mirror whose outline forms the words: Satisfy Me! Monica Bonvicini's eponymous work confronts the viewer with this imperative. Only who is speaking? The mirror as a substitute for the lustful gaze of others, which forms us into an object of desire? Or the reflection? According to Jacques Lacan's theory of the mirror stage, for example, a person's becoming a subject begins with the formative primal scene of looking into the mirror. On the one hand this results in the person identifying with their specular image; on the other hand, it causes a split within the subject. In short: Does the perception of the human body by the self or others merely aim at appeasing the lust for flesh?

Bodies are fields of tension. They pulsate between the poles of total relaxation and complete tension, conveying, for instance, a sense of elegance or insecurity. Bodies are also a source of tension. They have the power, especially in a state of nudity, to cause tension in a viewer, awakening feelings of desire or discomfort. Art that is dedicated to depicting exposed bodies is never only concerned with superficial phenomena, but also with the states of the soul. The Wemhöner Collection, with its two-part exhibition satisfy me, explores the highly charged terrain of an aesthetics of nudity that has been shaped by taboos, norms, and transgressions since antiquity.

Featuring the works of Kader Attia nd Duane Michals, the first part of the exhibition (Körper als Spannungsfeld/Bodies as Fields of Tension) presents contemporary positions of artistically staged nudity, which can be linked to two lines of tradition that persist today: the ancient Greek notion of ideal beauty, and the Christian narrative of the fall of man associated with shame, knowledge, and transience. Against the backdrop of heroic or ideal nudity, the works of the artists Yang Fudong and Xu Qu – Chinese contemporary art is a focal point of the Wemhöner Collection – also gain in contour.

The second part of the exhibition (Körper als Spannungserreger/Bodies as a Source of Tension) confronts the omnipresence of nudity conveyed by the media in an increasingly exhibitionistic society. Not only have divisions between the private and the public become blurred; the flood of images threatens to unleash a frenzy of immodesty. Seen in this light, the works of Roger Ballen, Monica Bonvicini, Asta Gröting, Marc Lafia, Andreas Mühe and Tim Noble & Sue Webster strive for a contemporary relationship with the naked body. By shifting the boundaries of shame its demystification is sometimes driven so far that a longing for its reenchantment becomes irrefutable.