Doing Things With Words
02 Jun - 19 Aug 2018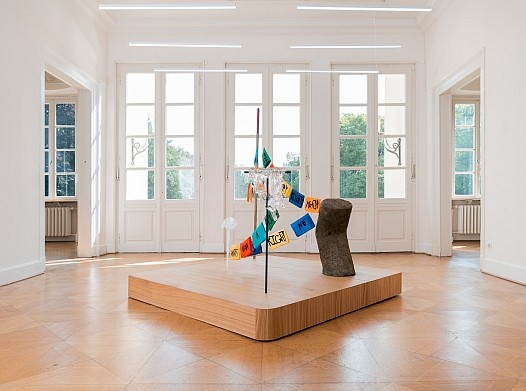 Hassan Khan, tainted, 2018, installation view Kunstverein Braunschweig, 2018, courtesy the artist and Galerie Chantal Crousel, photo: Stefan Stark
DOING THINGS WITH WORDS
Feiko Beckers, Mike Bourscheid, Colonial Neighbours, Ricardo Domeneck, Christian Falsnaes, Lina Hermsdorf, Balz Isler, Hassan Khan, Hanne Lippard, Paul Maheke, Teresa Solar, Frances Stark, Adrian Williams
2 June - 19 August 2018

Sommerfest und Eröffnung: Freitag, 1. Juni 2018, 19 Uhr

In unserer digitalen Gegenwart, in der Materialität und Körper an Relevanz zu verlieren scheinen, ist in der aktuellen Kunst interessanterweise eine gegenläufige Tendenz zu beobachten: Die Beschäftigung mit dem Körper als form- und optimierbares sowie als performatives Tool erlebt Hochkonjunktur, wobei die Performance als Genre reaktiviert und wiederkehrend als Bestandteil multidisziplinärer Arbeitsweisen eingesetzt wird.

Die Gruppenausstellung DOING THINGS WITH WORDS baut auf Fragestellungen der Auftaktausstellung PROCESS, PERFORMANCE, PRESENCE aus dem Jahr 2016 auf. Im diesjährigen zweiten Teil der Ausstellungsserie wird der Fokus auf den Einsatz von Sprache in Performances gelegt. Wie klingt Sprache und wie lässt sich mit dem Körper als Klang produzierender Resonanzraum experimentieren? Wie manifestiert sich Sprache – körperlich und materiell? Welche Kommunikationsformen und -kanäle prägen unseren Alltag? Und wie ist das Verhältnis von geschriebenem, gelesenem und gesprochenem Wort in der performativen Praxis? Der Titel DOING THINGS WITH WORDS lehnt sich an die 1962 veröffentlichte und viel zitierte Sprechakttheorie "How to Do Things with Words" von J. L. Austin an. Austin geht davon aus, dass eine Äußerung zugleich immer auch eine Handlung darstelle.

Räumlich wird die Ausstellung das gesamte Gelände des Kunstverein Braunschweig einbeziehen: Villa Salve Hospes, Remise, Hof und Garten. Im Rahmen der Ausstellung DOING THINGS WITH WORDS kooperiert der Kunstverein Braunschweig mit dem Festival Theaterformen.