Sharon Lockhart
12 Apr - 15 Jun 2008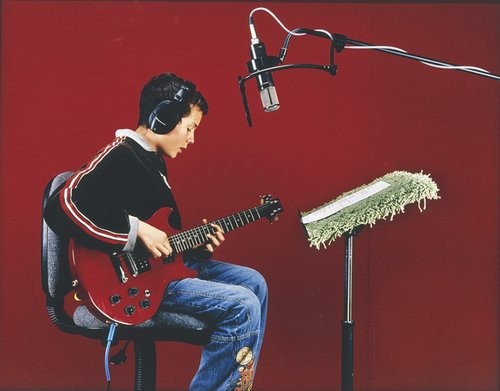 © Sharon Lockhart
Untitled, 2005
Chromogener Druck, gerahmt
122 x 157 cm
Auflage 6
courtesy neugerriemschneider, Berlin, Gladstone Gallery, New York und Blum & Poe, Los Angeles
SHARON LOCKHART

12. April - 15. June 2008
Opening: Friday, 11. April 2008 6pm

With its large retrospective of the work of the American artist Sharon Lockhart, the Kunstverein in Hamburg continues its series of wide-ranging solo exhibitions of outstanding artists who predominantly work in the media of film and photography. Artists represented in recent years include Yael Bartana, Willie Doherty, Andrea Fraser, Mark Lewis, Paul McCarthy, and others. Like those exhibitions, this one is accompanied by an oeuvre catalogue of the artist's works.
Born in Norwood, Massachusetts in 1964 and currently living in Los Angeles, Sharon Lockhart generally prepares for her photographs and films with highly time- and labor-intensive research efforts. Her early works contain allusions to classic films and film-still-like photographs that point to her immediate environment, Hollywood. One of her best-known works from this period, which is also on display at the Hamburg exhibition, is Audition (1994), a series of color photographs in which boys and girls reenact a scene from François Truffaut's L'argent de poche (Small Change) from 1975. The photographs, which look like film stills, create an irritating contradiction between the age of the performers and the scenes they are reenacting, a tension that is characteristic of Sharon Lockhart's work, which often depicts children or young people in the transitional phase between childhood and adulthood.
The artist is interested not only in how cultural representation manifests itself in different stages of life, but also in how it does so in disparate geographical regions and contexts. Thus, for some of her projects, she spent several months in Japan and Brazil. For her film Goshogaoka (1997), she conceived a precisely and thoroughly choreographed basketball practice session with Japanese girls in a suburb of Tokyo. Like all her films, it also involved the production of photographs, which – as independent series – possess a special quality that oscillates between transitory process and static, pictorial composition.
A keen interest in the relationship between the visual arts and film, between the artificial staging of reality and its ostensibly authentic, realistic reproduction is one of the constants in Sharon Lockhart's work. In this sense, it is understandable that she would choose motifs for her works from the sculptures of Duane Hanson, which she deals with in a number of her photographic works, and which interest her in large part because of their simulation of reality. In addition, Lockhart insists on the importance of the specific context in which her works are received, presenting her films almost exclusively in movie theaters. It is only in recent years that she has begun to develop formats for presenting some of her moving images at exhibitions. The formats she chooses help to sensitive the viewer to the discrepancy between the two kinds of site – movie theaters and museums. For example, when Pine Flat (2005) is shown at exhibitions, two of the film's twelve chapters are shown each day. Thus, a visitor who wishes to see the entire film has to visit the exhibition on six different days, as opposed to just once in the movie theater, where the entire film is shown with only a single, brief intermission.
Sharon Lockhart deliberately employs emotional effects that stand in a relationship of tension with the rational, conceptual orientation of her work. The atmospheres and situations in her photographs and films are characterized both by analytical distance as well as by subjective identification and empathy.
Her works have already been presented in large-scale solo exhibitions at museums like the Walker Art Center in Minneapolis, the Museum of Contemporary Art in Chicago, the Museum Boijmans van Beuningen in Rotterdam, and Kunsthalle in Zurich, as well as at renowned international festivals in New York, Berlin, Vienna, and Rio de Janeiro. Kunstverein in Hamburg presents the most extensive exhibition of her photographic works to date and also shows her films NO (2003) und Pine Flat (2005) in its exhibition spaces.
In cooperation with Kunstverein in Hamburg, Metropolis Kino presents the following films by Sharon Lockhart:

Saturday, April 12, 2008 at 7:00 p.m.
Pine Flat (USA 2005, 138 minutes) with an introduction by Sharon Lockhart (in English)

Tuesday, April 22, 2008 at 7:00 p.m.
Teatro Amazonas (USA 1999, 40 minutes)

Wednesday, May 7, 2008 at 7:00 p.m.
Nô (USA 2003, 32 minutes)

Tuesday, May 13, 2008 at 7:00 p.m.
Goshogaoka (USA 1997, 63 minutes.)

ADMISSION € 6,-
Reduced € 4,-
Members of Kunstverein
and Metropolis Kino € 3,-
An oeuvre catalogue is being published by DuMont Verlag with texts by Diedrich Diederichsen, Yilmaz Dziewior, and others.

Thanks to the CORA-Kunststiftung Hamburg for supporting the exhibition of Sharon Lockhart.