Karl Holmqvist
I Want Dandy
05 Jul - 09 Sep 2016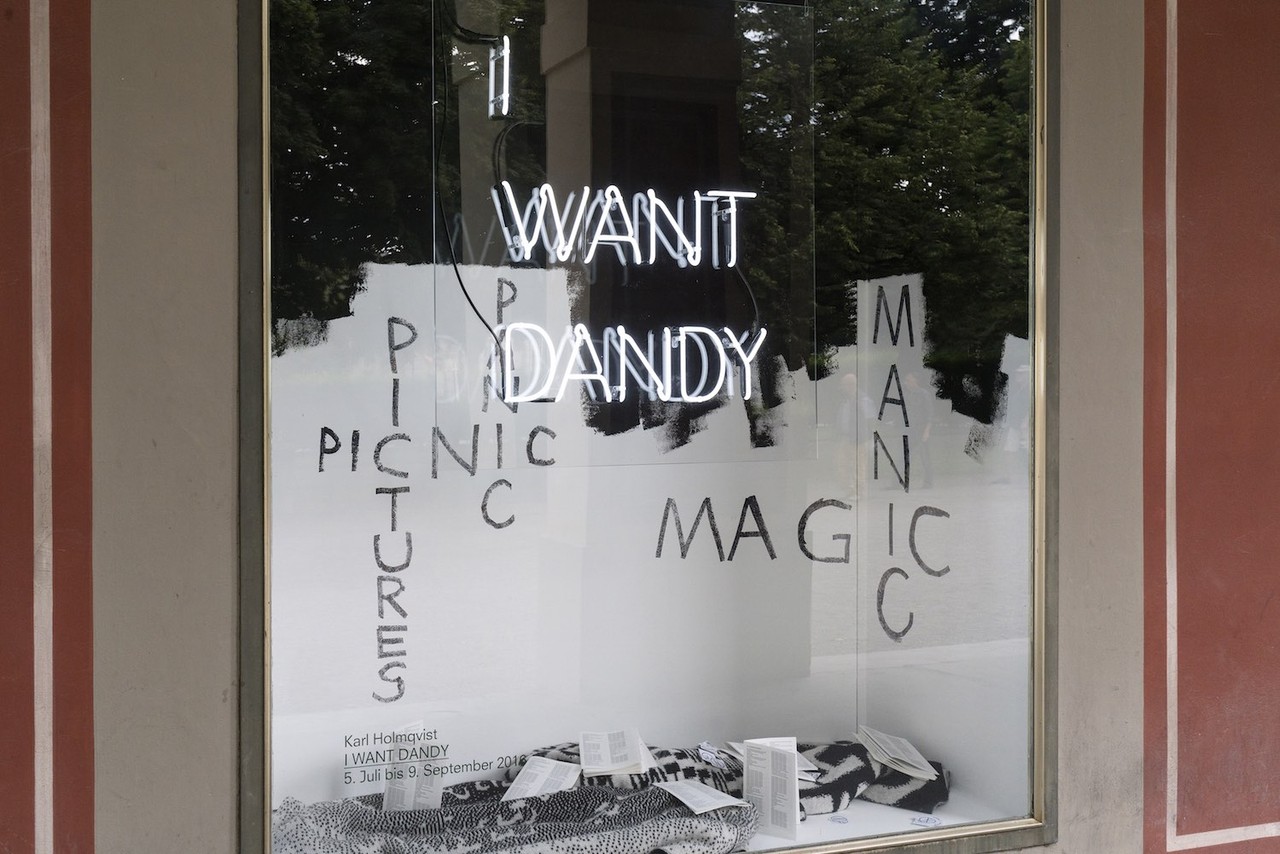 Karl Holmqvist, I WANT DANDY, installation view, Courtesy of the artist and Kunstverein München e.V.
KARL HOLMQVIST
I Want Dandy
5 July - 9 September 2016

From 5 July until 9 September 2016, Kunstverein München presents I WANT DANDY — an exhibition by Karl Holmqvist in the Schaufenster am Hofgarten.

Berlin-based artist Karl Holmqvist liberates words from their conventional meanings and contexts, reroutes them, and multiplies their potential interpretation. He uses text from advertising, literature, art history, newspaper headlines, political slogans, pop songs, truisms, mottos, catchphrases, and other generic types of speech, sends these utterances through a series of mishandlings, repetitions, alliterations, inversions, reversals, permutations, and combinations, and funnels them into artworks, poetry, and publications. Contesting the authority of language, Holmqvist exaggerates the ways phrases echo in our minds and manifest in our habits and desires.

For his exhibition in the Schaufenster, Holmqvist announces the exhibition title in glowing white neon, alluding to commercial signage and the common use of neon in text-based conceptual art since the 1960s, while also misarticulating the infectious chorus of a familiar pop song. By substituting 'candy' for 'dandy', Holmqvist ambiguously advertises an immaterial temperament and beckons the elegant gentlemen that leisurely populate the Hofgarten, for whom taste, pleasure, and self-construction are of the utmost importance. Haptic, hand-written texts resembling both calligraphy and graffiti will be scrawled directly onto the walls of the showcase as well, through which Holmqvist further articulates the logic of desire, taste, and consumption residing in the seemingly innocuous language so vital to capitalism, and so omnipresent in our daily lives. Mimicking the conventions of a shop-window display by offering only empty words, Holmqvist stocks the showcase with an inventory of printed matter and a new series of wool blankets knitted with typographic compositions that were produced in collaboration with the artist and performer Mundi Vondi.

During the opening on 5 July, Holmqvist and Vondi will present one of Holmqvist's idiosyncratic readings in the Hofgarten atop their blankets, hypnotically repeating and enunciating words and phrases aloud in varied ways, and stretching the relationship between sound and text.