Christoph Schlingensief
01 Dec 2013 - 19 Jan 2014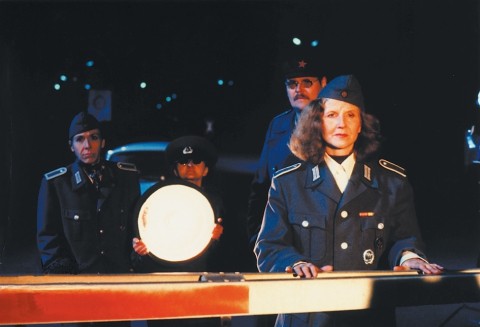 Christoph Schlingensief
DAS DEUTSCHE KETTENSÄGENMASSAKER, 1990
F. l. t. r.: Eva Maria Kurz, not reported, Mike Wiedemann, Irm Hermann
© Filmgalerie 451
CHRISTOPH SCHLINGENSIEF
1 December 2013 - 19 January 20 14

Christoph Schlingensief has transgressed artistic, medial and institutional boundaries in his oeuvre, which spans films, theater pieces, operas, happenings, performances and installations. It is an exciting and versatile body of work, and one whose full effect unfolds through continuous fragmentation, synchronicity, dissolution of boundaries, and its inter- and trans-medial character.

The exhibition CHRISTOPH SCHLINGENSIEF at KW Institute for Contemporary Art in Berlin is the first comprehensive show dedicated to his work.

His radical demand for reaction, his uniquely inventive imagery, his almost obsessive overexertion and challenging demand for similar dedication from anyone involved in his projects secure Schlingensief's exceptional position in the contemporaneous art discourse.

His films, theater pieces, happenings and performances serve as comments on and reactions to their respective moments of development and the social contexts they've emerged from, touching on topics such as media representations of current events, politics, German history, fascism, Christianity and the institution of family. Not only the central strands in Schlingensief's artistic path, but also the social and historical context of his oeuvre as well as its explosive nature constitute the focus of the comprehensive exhibition.

The show is accompanied by a program of events and a publication.

The exhibition CHRISTOPH SCHLINGENSIEF is curated by Klaus Biesenbach, Anna-Catharina Gebbers and Susanne Pfeffer.
Artistic advisor: Aino Laberenz/Estate of Christoph Schlingensief

CHRISTOPH SCHLINGENSIEF is funded by the Kulturstiftung des Bundes (German Federal Cultural Foundation).