Elín Hansdóttir
15 Mar - 25 May 2015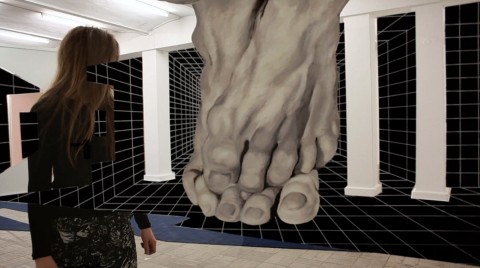 © Elín Hansdóttir
SUSPENSION OF DISBELIEF, 2015
video still, courtesy Elín Hansdóttir and i8 Gallery, Reykjavik
ELÍN HANSDÓTTIR
Suspension of Disbelief
15 March - 25 May 2105

The artist Elín Hansdóttir is showing her first solo exhibition SUSPENSION OF DISBELIEF at KW Institute for Contemporary Art and produces a site-specific work, which uses the architecture of the former margarine factory as a starting point for a spatial and filmic installation.

Elín Hansdóttir places the viewers in the spotlight of her cross-genre installations. Over the past years, her artistic practice has shifted from sculptural concepts to dynamic spatial arrangements, which incorporate sound and light, but also address the changes in the viewers' perception through their own movements as essential elements. SUSPENSION OF DISBELIEF is the first work by Hansdóttir in which the filmic experiment plays a key role. Employing acoustic and optical effects as well as architectural elements, her works explore the potentials and limitations of spatial experience.

SUSPENSION OF DISBELIEF is funded by Medienboard Berlin Brandenburg. With additional support from the Icelandic Visual Arts Fund, the Icelandic Art Center, the Embassy of Iceland, and the Muggur Travel Grant.