RELAUNCH
28 Apr - 25 Aug 2013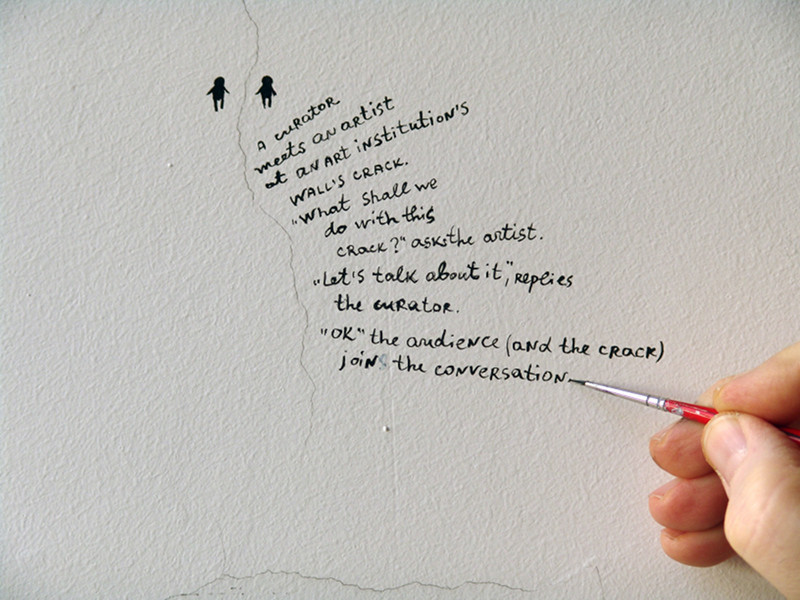 Nedko Solakov, A drawing somewhere on the wall of Nedko Solakov's studio in Sofia, 2013, Ink. Photo: Irena Ashikova & Dimitar Solakov
For her first project as chief curator of KW Institute for Contemporary Art, Ellen Blumenstein looks to the institution itself: over a four month period, she demonstrates what KW longs to be, what it could be, and what it – potentially – will become. With Relaunch, Blumenstein introduces the upcoming program, glances at what is ahead, and tests all ideas viability in situ. What works, what interests the audience? What amuses, touches and inspires? What might not (yet) be realizable, whether for financial reasons, or for internal, external, political or other hurdles?

At the outset of its new program, KW's space will be simultaneously empty and overflowing: empty, since no art exhibition in a traditional sense will be shown; overflowing, since all its future uses will already be marked, and each cooperation with artists and other participants will assume its preliminary shape, even if only in the viewer's imagination.

During the exhibition period Blumenstein will activate the whole building complex, from the entrance gate to the top of the roof, through various formats and in ever-changing spatial constellations. The curatorial approach and proclaimed fields of interest will be introduced, teasers will hint at future alliances, as well as at artistic projects in the making.

Constructed upon the house's history and its exhibition practice, Relaunch sets KW forth as a vital, social place. It situates itself on the verge between an applied past, shaped present, and possible future, a place where the most pressing questions of our time can be openly discussed. In this way, KW becomes a space that imagines what an art institution's potential can be. It is a space that – in multiple senses – exhibits itself: Presenting itself to the audience, drawing its own image, launching its content and forms, sharing its intentions, wishes, and fears – in short, attempting to think itself anew.

Within Relaunch, long-term alliances and projects will be seen for the first time: Studio Quentin Walesch has developed a new look for all print and online materials, reinvented visitor guidance throughout the house, and had the Swiss font designer Laurenz Brunner develop a unique brand font for KW. The design firm EventArchitectuur has constructed a multifunctional system between furniture and stage design, which acts as the building blocks for all interactive spaces. In addition, all exhibition catalogs, as well as an independent series on curatorial practices, have been developed in collaboration with diaphanes publishing. Further cooperations are planned with (amongst others): Arsenal – Institute for Film and Video Art, Foreign Affairs (Berliner Festspiele), the Deutsches Hygiene-Museum Dresden, and MoMA PS1.

Relaunch Participants: Gabriel Abrantes, Ute Adamczewski, AIDS-3D, Ulf Aminde, Kader Attia, Giles Bailey, Sladja Blazan, Matthias Böhler & Christian Orendt, Jochen Dehn, Martin Ebner, Ólafur Elíasson, EventArchitectuur, Claire Fontaine, William Forsythe, Robin Fox, Stephan Geene, Patrycja German, Goldin+Senneby, Milena Gregor, Hadley+Maxwell, Jan Peter Hammer, Elín Hansdóttir, Bethan Huws, Kartenrecht, Martin Kohlbauer, Birgit Kohler, Rudolf Kreis, Nikolaus Kuhnert, Annika Larsson, Mark Leckey, Robert Lippok, Eunice Martins, Augustin Maurs, Angela Melitopoulos, Margarida Mendes, Olaf Nicolai, Michael Portnoy, Johannes Paul Raether, Reactor, Sabine Reinfeld, Willem de Rooij, Constanze Ruhm, Susanne Sachsse, Georgia Sagri, Ines Schaber, Stefanie Schulte Strathaus, Nedko Solakov, Cally Spooner, Klasse Hito Steyerl, Ana Teixeira Pinto, Ryan Trecartin and Lizzie Fitch, Daniel Tyradellis, Felix Vogel, Joseph Vogl, Ian White, Nicole Wolf, Florian Wüst, Florian Zeyfang, and others

Kindly funded by the Capital Cultural Fund, Berlin. Additional support from the Icelandic Art Center and the Embassy of the Netherlands in Berlin.