A is for Zebra
02 Dec 2011 - 30 Mar 2012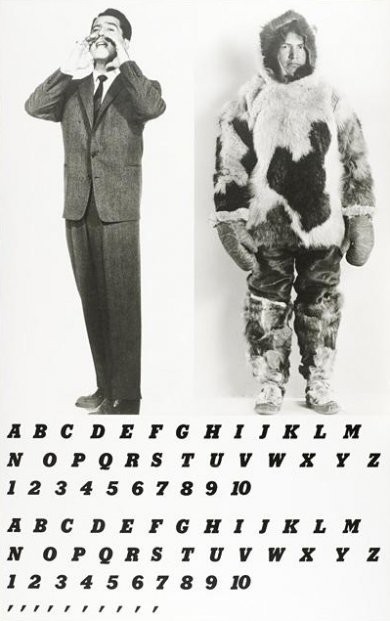 John Baldessari
Two Men with Alphabets, 1984, Black-and-white photograph, Framed: 48 1/2 x 30 3/4 x 1 in. (123.19 x 78.11 x 2.54 cm), Gift of Judy and Stuart Spence.
A IS FOR ZEBRA
Charles White Elementary School Gallery | 2401 Wilshire Boulevard, Los Angeles, California 90057
2 December, 2011 – 30 March, 2012

As part of Art Programs with the Community: LACMA On-site, LACMA presents A is for Zebra, an exhibition about alphabets making sense and non-sense. The exhibition, installed at the Charles White Elementary School, features works from the museum ́s collection by John Baldessari, Mel Bochner, Guy de Cointet, and Hans Grohs, as well as facsimiles of Francisco de Goya's Caprichos and the Aztec codex Tira de la Peregrinación.

LACMA also commissioned new works by Michele Dizon and Camilo Ontiveros, Kirsten Mosher and Stephanie Taylor as part of the exhibition. Dizon and Ontiveros created a mural, inspired by those in East LA. In video and installation work, Mosher introduces gumheads, a set of characters who dwell in overlooked areas of the gallery, assembling an unconventional alphabet. Taylor designed an alphabet with objects that sound like letters and composed a song, imagining a story told by these objects. The exhibition also includes a room dedicated to Stripsody, a song made of mostly onomatopeic sounds and comic strips composed by singer Cathy Berberian.

Visitors to the gallery are invited to don special glasses that allow them to read text and labels throughout the exhibit in either English or Spanish.

The gallery is closed December 19, 2011–January 9, 2012, January 16, and February 20.

Charles White Elementary School opened in 2004 on the former campus of Otis College of Art and Design. The school is named for the artist Charles White (1918–1979), who lived in the area and who taught at Otis for many years. LACMA has been programming exhibitions at the school since 2007.