Agnès Varda in Californialand
03 Nov 2013 - 22 Jun 2014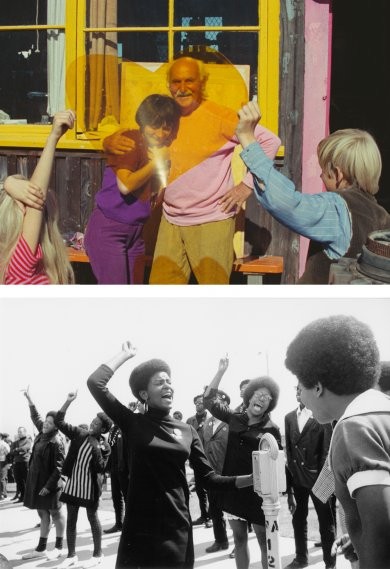 Top: Snapshot from the short film Uncle Yanco, Agnès Varda, 1967, © ciné-tamaris.
Bottom: Black Panters' meeting for Huey Newton's freedom. Photography taken by Agnès Varda in Oakland, 1968, © Agnès Varda.
AGNÈS VARDA IN CALIFORNIALAND
3 November 2013 – 22 June 2014

Once called the "grandmother of the French New Wave," Agnès Varda has been making narrative and documentary films for six decades. Agnès Varda in Californialand is the first U.S. museum presentation of her artwork. The exhibition features a new major sculptural installation inspired by her time in Los Angeles in the late 1960s, as well as a selection of her photographs. This exhibition coincides with LACMA's efforts, with the support of the Annenberg Foundation and The Film Foundation, to restore four films made by Varda in California: Uncle Yanco (1967), Black Panthers (1968), LIONS LOVE (...AND LIES) (1969), and Mur Murs (1981).

Agnès Varda in Californialand is accompanied by an extensive film series organized by LACMA. The exhibition is part of LACMA's Art+Film initiative, a large-scale effort to consider the place of film within a museum context.

This exhibition was organized by the Los Angeles County Museum of Art. The exhibition was supported in part by the Institut Français, the Cultural Services of the French Embassy and Ciné-Tamaris (Paris).