BCAM at LACMA: Inaugural Installation
01 - 30 Sep 2008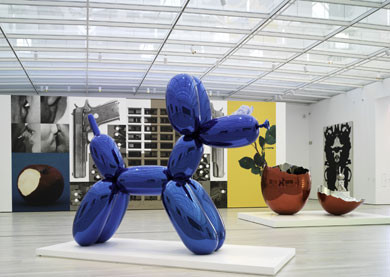 © Installation view: third floor, west gallery, featuring Balloon Dog (Blue), 1994-2000, and Cracked Egg (Red), 1994-2000, by Jeff Koons, BCAM at LACMA,
© Jeff Koons, photo © Weldon Brewster Photography.
BCAM at LACMA: INAUGURAL INSTALLATION

Through September 2008 | BCAM

The newly opened Broad Contemporary Art Museum at LACMA holds some of the most iconic artworks from the last four decades—most from the famed Broad Collections. Reflecting Eli and Edythe Broad's practice of collecting artists in depth, BCAM's sixty thousand square feet of gallery space are devoted primarily to groupings of works by single artists. BCAM provides rich representations of some of the most important artists of the last forty years, including Robert Rauschenberg, Jasper Johns, Roy Lichtenstein, Ed Ruscha, Andy Warhol, Ellsworth Kelly, Cindy Sherman, Jean-Michel Basquiat, John Baldessari, Jeff Koons, Chris Burden, Mike Kelley, and Richard Serra.