Classical Frieze: Eleanor Antin
14 May - 04 Oct 2009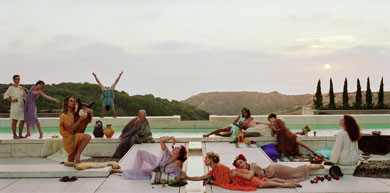 © Eleanor Antin
The Death of Petronius from "The Last Days of Pompeii", 2001
chromogenic print
46 9/16 x 94 1/2 x 1 3/4 inches
courtesy Ronald Feldman Fine Arts, New York.
CLASSICAL FRIEZE: ELEANOR ANTIN

May 14, 2009–October 4, 2009 | Art of the Americas Building

Classical Frieze is a film and selection of photographs from Eleanor Antin's recent work (2000–2009) recreating the ancient world through the screen of 19th-century neo-classical painting. The installation of her work coincides with the current special exhibition Pompeii and the Roman Villa: Art and Culture around the Bay of Naples.
"Pompeii and the Roman Villa illustrates how the Trojan War and the death and wandering of the great Greek heroes were the moral and aesthetic tropes of Roman culture. Whereas for us, the romance of the Roman Empire, with its deliciously decadent affluence and military power, lies deep in modern Western consciousness. The great 19th-century colonial powers that preceded us saw themselves as the new Rome, bringing civilization to primitive peoples, not unlike the way we see ourselves today. At the same time, we are uneasy and haunted by the great empire that owned but then lost the world. Pompeii, especially, with its grand murals and flourishing gardens haunted by the dark shadow of Vesuvius, has always suggested uncomfortable parallels with our contemporary world, especially here in Southern California, where the sunlit life also turns out to have dark shadows in which failure and death lurk at the edge of consciousness. Now, in these times, we have even closer parallels with those ancient, beautiful, affluent people living the good life on the verge of annihilation."—Eleanor Antin, San Diego, 2009.
This exhibition is organized by the Los Angeles County Museum of Art.