Expressionism: Selections from the Robert Gore Rifkind Center for German Expressionist Studies
13 Jan - 20 Apr 2008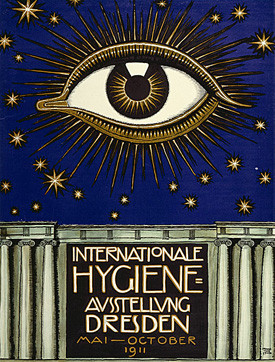 © Franz Ritter von Stuck (Germany, Tettenweis-Niederbayern, 1863–1928)
International Hygiene Exhibition, 1911, 1911
Poster/placard, Lithograph printed in blue, green, black and ocher on wove paper, Image: 35 3/8 x 27 in. (89.85 x 68.58 cm); Sheet: 36 1/2 x 28 in. (92.71 x 71.12 cm)
Gift of the Robert Gore Rifkind Foundation, Beverly Hills (M.2003.114.54)
EXPRESSIONISM: SELECTIONS FROM THE ROBERT GORE RIFKIND CENTER FOR GERMAN EXPRESSIONIST STUDIES

January 13, 2008–April 20, 2008
Ahmanson Building, Plaza Level

This exhibition presents a selection of highlights from the Rifkind Center for German Expressionist Studies ranging from antecedents in Jugendstil through the Brücke and Blaue Reiter to the "New Objectivity" period that followed Expressionism in the 1920s. Among the items on view are selections from the Brücke's annual portfolios, which contain some of their most admired graphic works. Also included is a complete hand-colored set of Max Pechstein's woodcut portfolio of 1921, Das Vaterunser (The Lord's Prayer), which combines religious devotion with the Expressionists' vital interest in tribal artifacts. Several other works by Karl Schmidt-Rottluff, Erich Heckel and Emil Nolde demonstrate how their interest in non-Western cultures helped them revolutionize modern art. The experience of World War I is reflected in Käthe Kollwitz's portfolio of seven moving woodcuts entitled simply Krieg (War), as well as in a selection from Otto Dix's war portfolio. The utopian aspirations of the Expressionist generation as they sought a new social order after the war are conveyed in Moritz Melzer's spectacular monotype, Lightning over Mittelberg, of 1919. The New Objectivity section of the exhibition concludes with Eddie Smith's precisely rendered drawing Murderer with Dove accompanied by the engraving it inspired. This exhibition will be complemented by a selection of objects from the Decorative Arts and Design Department.