Form in Fragments: Abstraction in German Art, 1906-1925
06 May - 24 Sep 2017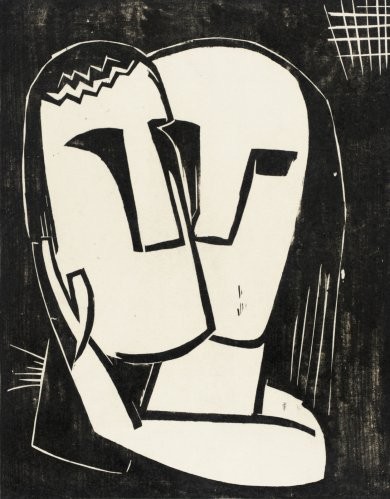 Karl Schmidt-Rottluff
Hyperion Verlag, Liebespaar, 1920.
© Artists Rights Society (ARS), New York / VG Bild-Kunst, Bonn, photo © Museum Associates/LACMA
FORM IN FRAGMENTS: ABSTRACTION IN GERMAN ART, 1906-1925
6 May – 24 September 2017

Form in Fragments: Abstraction in German Art, 1906–1925 explores tendencies toward abstraction in German Expressionism, a movement that foregrounded representational approaches to art making. Russian-born artist Wassily Kandinsky, a founding member of the Expressionist artist's group Der Blaue Reiter (The Blue Rider), is typically credited with inventing a radical art of pure abstraction in 1911, becoming the first of several major artists across Europe to abandon the representation of objects, real or imagined, embracing instead the possibilities of line, shape, form, and color. Despite the ripple effects of Kandinsky's innovation, his fellow Expressionists largely maintained their commitment to depicting nature, urban life, the human body, and the psyche with passion and verve. Importantly, however, they also complicated their representational images through formal strategies of dissolution, fragmentation, simplification, geometricization, and high contrast, often flirting with the edges of abstraction. Comprising over 60 works on paper drawn from LACMA's collection, including works by Otto Dix, Lyonel Feininger, Erich Heckel, Ernst Ludwig Kirchner, Paul Klee, and Franz Marc, as well as a selection of early abstract films by Hans Richter, this exhibition highlights the various ways in which abstraction informed and troubled Expressionist pictures.