In Wonderland
29 Jan - 06 May 2012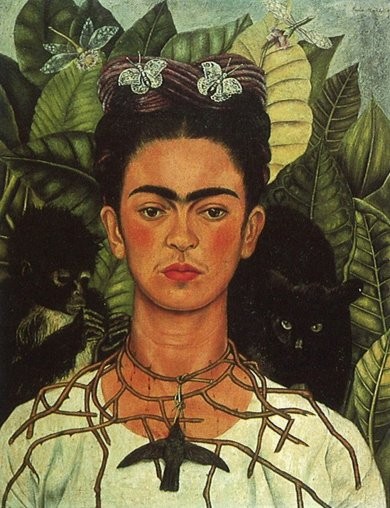 Frida Kahlo
Autorretrato con collar de espinas y colibri (Self Portrait with Thorn Necklace and Hummingbird), 1940
Oil on canvas
Canvas: 30 x 24 in. (76.2 x 60.96 cm)
© Banco de Mexico Diego Rivera Frida Kahlo Museums Trust, Mexico, D.F. / Artists Rights Society (ARS), New York. Photo courtesy Harry Ransom Humanities Research Center, The University of Texas at Austin.
IN WONDERLAND: The Surrealist Adventures of Women Artists in Mexico and the United States
29 January - 6 May, 2012

North America represented a place free from European traditions for women Surrealists from the United States and Mexico, and European émigrés. While their male counterparts usually cast women as objects for their delectation, female Surrealists delved into their own subconscious and dreams, creating extraordinary visual images. Their art was primarily about identity: portraits, double portraits, self-referential images, and masquerades that demonstrate their trials and pleasures. The exhibition includes works in a variety of media dating from 1931 to 1968, and some later examples that demonstrate Surrealism's influence on the feminist movement. Iconic figures such as Louise Bourgeois, Leonora Carrington, Frida Kahlo, Lee Miller, Kay Sage, Dorothea Tanning, and Remedios Varo are represented, along with lesser known or newly discovered practitioners.