Lise Sarfati
07 Dec 2013 - 27 Apr 2014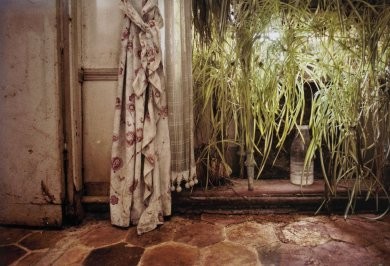 © Lise Sarfati
Untitled #15, 1996 printed 2007
Fuji Crystal Archive print
13x16 in.
Gift of Daniel Greenberg and Susan Steinhauser.
LISE SARFATI
Post-Factum
7 December 2013 – 27 April 2014

Artist Lise Sarfati captured the homes of writer and filmmaker Marguerite Duras (1914–1996) only days after her death. (Duras was aligned with the French subjective-documentary style of filmmaking pioneered by Agnès Varda, subject of the exhibition Agnès Varda in Californialand.) Duras lived primarily in central Paris, but also had a house outside the city in Neauphle-le-Château. The imagery of both locations appears as if Duras has just left—windows ajar, bed linens turned back, faucet dripping. Presented in its totality, this sequenced portfolio reads cinematically. Sarfati's approach is elusive—a cinematic poem hinting at a life well-lived, and one without a clear beginning, middle, or end. Her images are satisfyingly incomplete. The portfolio title, Post-Factum, taken from the Latin for "after the fact," becomes a most fitting tribute to Duras.